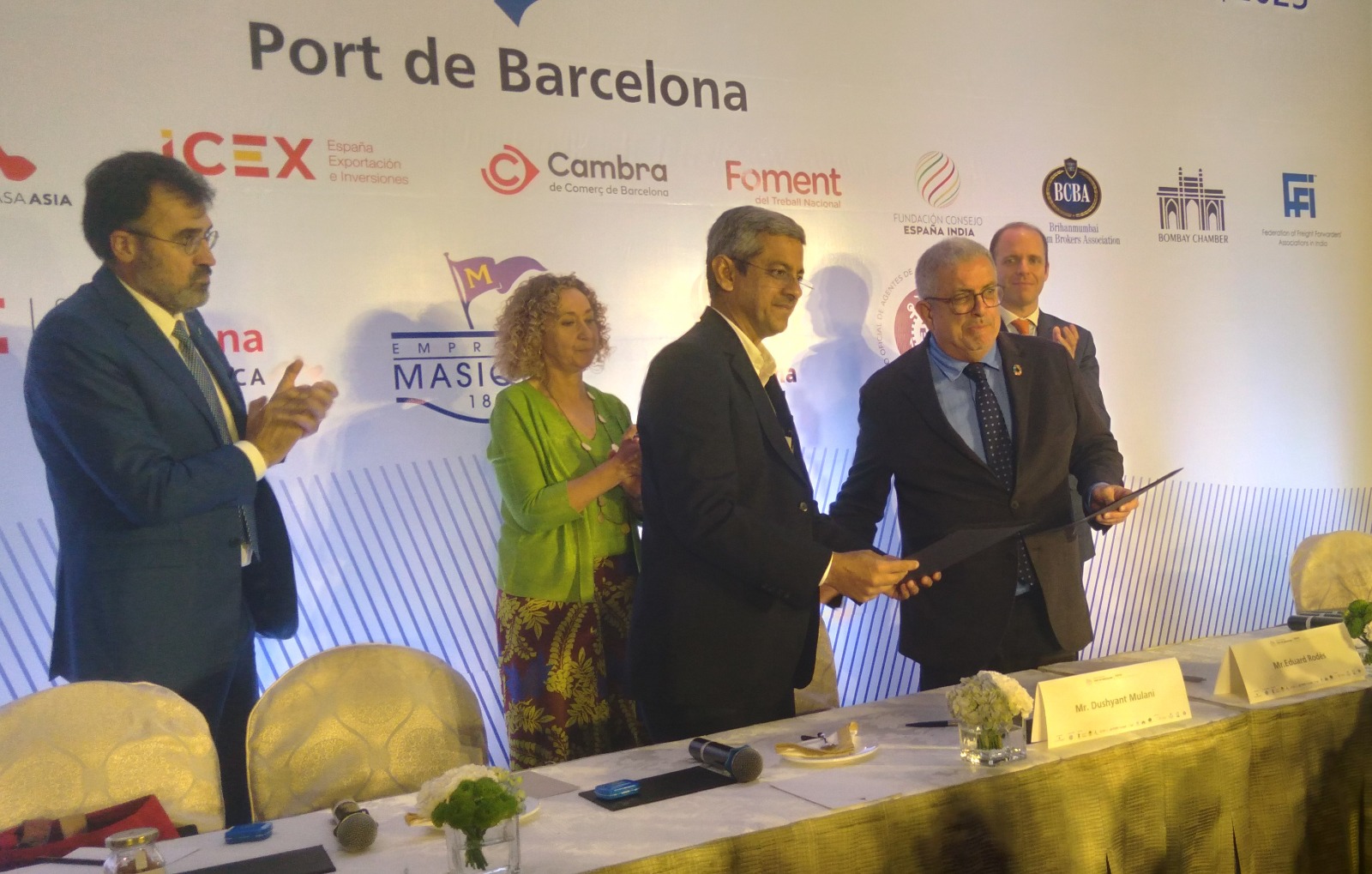 FFFAI and Escola Europea ink agreement to promote Training and Digitised Port Community in India 
MUMBAI : The Federation of Freight Forwarders Associations in India (FFFAI) and the Escola Europea de Short Sea Shipping, AEIE (EEIT) signed a memorandum of understanding On October 16, 2023 in Mumbai at an event organised especially for this purpose. The agreement was signed by Mr. Dushyant Mulani, Chairman, FFFAI and Mr. Eduard Rodés – Director of the Escola Europea in presence of Mr. Shankar Shinde, Immediate Past Chairman, FFFAI; Mr. Lluís Salvadó – President of the Port of Barcelona; Ms. Ester Capella – Minister of Territories and Transport of Catalunya, HE. Mr. Fernando Heredia Noguer – Consul General of Spain in Mumbai and several other dignitaries.
Based in Barcelona, Spain the Escola Europea is a European training center that serves as a leading authority in intermodal transport and logistics. The MoU is aimed to strengthen the bilateral initiatives with the national apex body of the customs brokers and freight forwarders in India i.e FFFAI and other Logistics Service Providers. It would also strengthen sustainable logistics, generate quality employment opportunities and cultivate a vibrant and dynamic relationship.
In view of the importance of trade between India and Spain, its potential for future development and requirement of skilled manpower to cater to logistics requirements, key objectives of the MoU are: to promote joint activities in logistics-port training and international trade; to establish a stable framework for collaborative courses and to foster international student exchanges.
Both the organisations agreed that it is essential to build better-trained, qualified, and digitised port communities to enhance trade relations between Spain and India, making transactions more efficient and fruitful. The importance of the development of the Blue Economy, in which ports and their logistic communities have to play a leading role has also been emphasised by the organisations.
According to the MoU a pilot training program will be developed focusing on international business operations involving transactions between India, Europe and Mediterranean countries. This training will encompass both maritime and aerial transport operations. Initial training will be conducted by personnel from cargo transportation companies, secondary and university-level educators, serving as a training course for future trainers.
The MoU also mentioned that based on the outcomes of this pilot program and the mutual interest of the parties in further developing their relationship, a stable framework for joint courses will be established under the umbrella of the Port Virtual Lab project.
Moreover, through the connections formed from these collaborative activities, at both the corporate and educational levels, student exchanges between institutions will be promoted within the context of international projects.