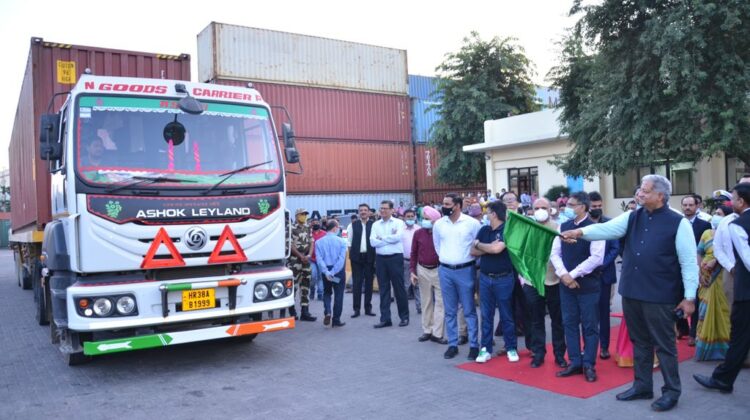 Government testing blockchain technology to streamline logistics industry

---
NEW DELHI : In a move towards promoting secure paperless trade, CBIC_India of Finance Ministry explores new frontiers for promoting DigitalIndia by adopting Blockchain Technology for tracking movement of containers to a bonded warehouse.
Blockchain nowadays is perhaps the most talked-about promising technology, surely since the inception of the Internet. It is much-hyped, debated, and controversial due to its deregulatory nature. So far it has mostly been associated with Bitcoin, Ethereum, or alternative cryptocurrencies. However, Blockchain holds the potential to trigger revolution across multiple industries, including Trade and Finance.
The 2020 Global Trade Survey from the International Chamber of Commerce highlighted that mainly due to Covid-19 trade and trade finance are in a state of global uncertainty. The survey also found that lockdowns and working from home are hastening the shift to digital solutions in trade, including blockchain. 44% of surveyed banks say that as they look to secure future growth, transformative technologies like blockchain, digital trade, and online trade platforms are priority areas of development and strategic focus in the near term. Over 50% also agreed that a growing number of document types used in trade could be digital.
Moving in the direction of promoting paperless trade, CBIC has launched a pilot project for the implementation of an Electronic Cargo Tracking System (ECTS) based on blockchain technology for tracking the movement of goods to a warehouse. This warehouse is at ICD Tughlakabad Import Commissionerate under Delhi Customs. The aim of ECTS is to test the blockchain technology's promised secured documentation & GPS-based tracking of containers.
Blockchain-based tracking systems are said to be the most reliable and unbreakable in terms of security as sensitive tracking data is secured cryptographically on a real-time basis. This allows data to be shielded from misuse by unauthorized users and any attempts to temper can trigger security alerts. Further, zones can be set for alerts when truck enter certain premises or geographical area. For security purposes, notifications can be set in the form of emails, text messages, or voice calls. A data-driven efficient tracking system can further be enhanced with features like finding the best route to saves time and money. The idle vehicle can be easily tracked down.
Smart Contract is one of the most fascinating implementations of Blockchain technology where a lot of tasks get self-executed when certain conditions of blockchain code are met. For example, if a truck reaches a warehouse or hands over the cargo to someone else along the route, a smart contract could make everyone in the blockchain aware of the event, and make the shipping document available to the next party and release the payment immediately in self-execution mode. In this manner, Blockchain could eliminate current paper-based systems where forms have to pass through numerous channels and approvals, which increase the risk for loss and fraud while creating a massive amount of administration.
---