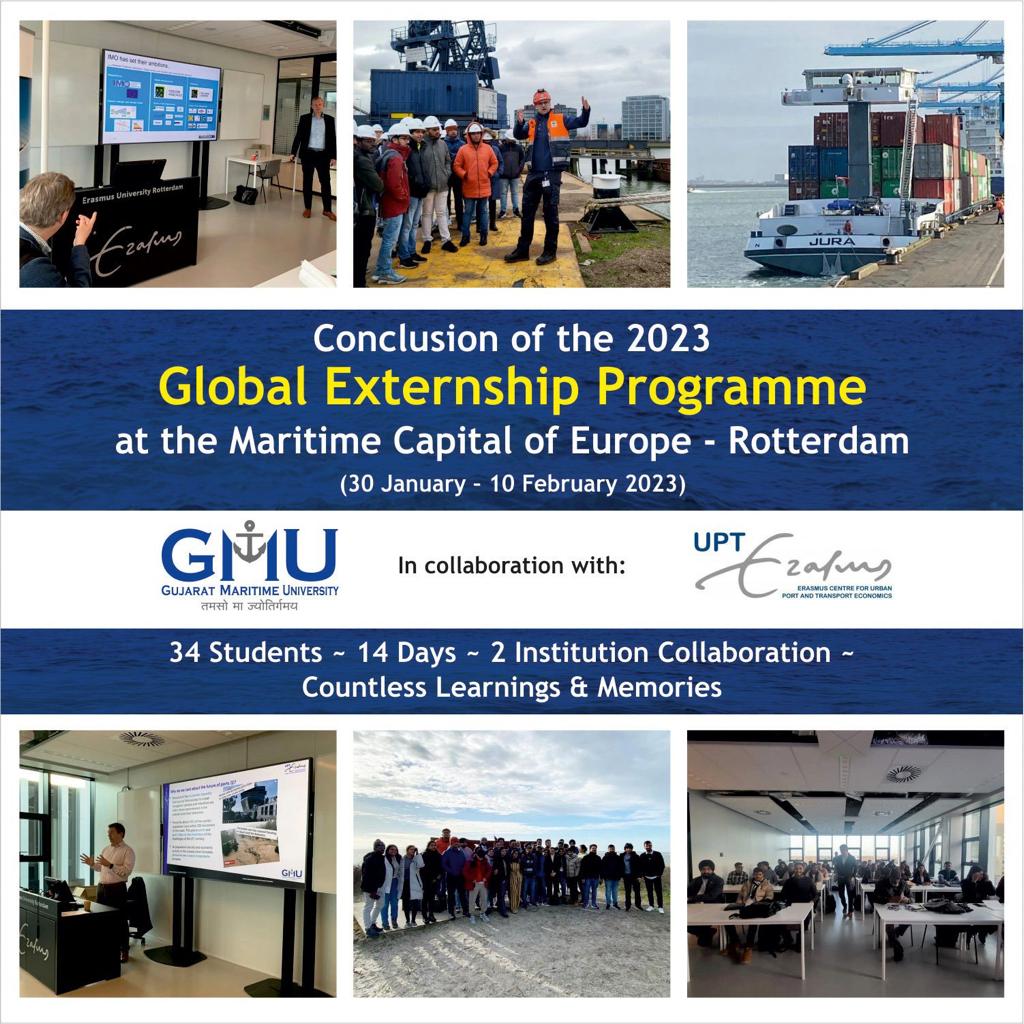 Gujarat Maritime University (GMU) has successfully completed an externship at the Erasmus University in the Netherlands.
GANDHINAGAR / ROTTERDAM : Gujarat Maritime University, promoted by the Government of Gujarat and Gujarat Maritime Board concluded its Global Externship Programme to Erasmus University, Netherlands on 10th February 2023.
The Global Externship Programme was designed to provide students with international exposure and provide students with first-hand experience of how things work at state-of-the-art foreign ports. Not many institutions in India have devised such global externship programmes in collaboration with globally renowned maritime institutions.
Over the course of 2 weeks, 34 students from GMU had the opportunity to participate in various classes, workshops, and industry visits, gaining valuable insights into the European maritime sector. The students also had the chance to interact with their peers from Erasmus University, fostering cross-cultural exchange.
During the externship, students could interact with the expert pool of faculty of Erasmus University and industry experts at Rotterdam and get a feel of the latest educational trends in the Netherlands. The students were taken through various interactive sessions, gamified sessions, port excursions, and presentations that gave them a deeper understanding of the maritime sector in a developed country.
The Global Externship is an integral part of the LLM, PGD and the MBA programme structures of Gujarat Maritime University and is governed by the Agreement signed between Gujarat Maritime University and the Erasmus Centre for Urban, Port and Transport, part of Erasmus University on 26th September 2019. The agreement is part of a broader cooperation arrangement between The Netherlands and India executed during the Vibrant Gujarat Global Summit in January 2019.
One senior official of the Gujarat Maritime University said "This program allowed our students to broaden their horizons and gain valuable insights into the global maritime industry. We are proud of our students, and we are confident that they will make the most of the experience they gained during the externship. We look forward to the success of our students in the future We are confident that this experience will help them in their future careers."