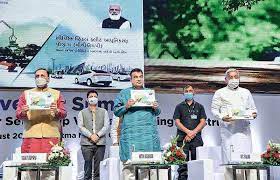 Gujarat signs 6 MoUs for vehicle-scrapping units
GANDHINAGAR : On the day the Centre rolled out the vehicle scrapping policy and Voluntary Vehicle Fleet Modernization Programme (V-VMP), the Gujarat government signed six MOUs (Memoranda of Understanding) with private companies to support their new vehicle-scrapping units. The state government also announced that it will set up two new scrap vehicle parks — one at Alang near Bhavnagar and another in Kutch.
Mr. Manoj Das, Additional Chief Secretary (ACS), the Chief Minister's office, and in charge ACS, Ports & Transport Department, said: "The policy will boost raw and metal recycling industrial units in the state."
Mr.Das said the state government has signed the MoUs with Tata Motors Limited, CMR-Kataria Recycling Private Limited, Cero-Mahindra MSTC Recycling Pvt Ltd, Modest Infrastructure Pvt Ltd, Mascot Engitech Private Limited, and Mono Steel India Limited.
Mr.Das further said: "The state has an established ecosystem for ship recycling and is well versed with the process of scrappage, waste disposal, and reuse of recycled materials."
Mr. Das went on to say: "Gujarat is intent on leveraging Alang and Kutch's recycling ecosystem for the development of vehicle-scrapping facilities in Gujarat."
PM Shri Narendra Modi, in his speech on Friday, stressed on developing Alang in Bhavnagar, which is a hub for ship recycling, into a vehicle-recycling hub. "Alang has already established itself as a ship-recycling hub. It also has skilled manpower," Modi said. "I strongly feel that it can also become a hub for turning vehicles into scrap. This will change the life of small traders and workers, as they will get the benefits of an organized sector." The PM said that the policy will boost the automobile as well as the metal industry.
Industry bodies such as CII and GCCI lauded the Union government for coming up with the policy that will make Indian scrappage industry organized, transparent and environment friendly.
Source : Times Of India