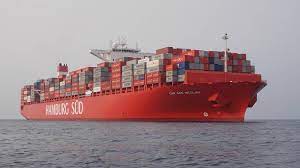 Hamburg Süd art container successfully auctioned off – 45,000 euros raised for seafaring missions
It was probably the most unusual charity art auction of the year , Hamburg Süd and Sotheby's auctioned off the two side walls of a 40-ft-long container designed by the Hamburg artist Jeannine Platz. The Hamburg Süd container had previously travelled around the world as an ambassador of international solidarity during the phase of global corona lockdowns and closed borders.
On its round the world trip the art container stopped on all five continents with different cargoes. Just in time for Hamburg Süd's 150th birthday, the art container returned to Hamburg at the end of October and had been displayed on Dar-es-Salaam-Square in HafenCity.In front of around 80 guests at the International Maritime Museum, the container with the "Message on a Box" – the title of the art project – was auctioned off by Dr. Katharina zu Sayn-Wittgenstein, Head of Office Hamburg & Munich at Sotheby's. The two side walls of the container raised a total of 20,500 euros. Hamburg Süd's employees had already raised more than 2,000 euros in an internal campaign. The shipping company will double the total amount once again.
Thus, a total of 45,000 euros will be donated to the seafaring missions in the ports along the journey of the art container. "During the global corona lockdown, seafarers have kept the world's supply chains of food, medicines and other key raw materials running and at the same time have had to endure a lot, as crew changes have not been possible for far too long due to the world's closed borders. They were practically trapped on board, and the seafaring missions helped the seafarers a lot during this difficult period. Therefore, it was no question for us to double the proceeds of the auction and thus further support the important work of the seafaring missions," said Lasse Carøe Henningsen, CFO of Hamburg Süd. "And of course, we also bid at the auction in order to increase the proceeds for the good cause."The artist Jeannine Platz had calligraphed the slogan "You dip your finger into the sea and you are in touch with the whole world" on the second container wall besides a 12 by 2.90 meter picture of the Port of Hamburg.
Since a group of Hamburg shipowners in addition to Hamburg Süd has won the auction of the two container walls, it was agreed to give the entire container as a permanent art work loan to the seafaring mission "Duckdalben" in the port of Hamburg. The seafarer's mission urgently needs a new container for their work, and all seafarers who visit the "Duckdalben" during their stay in the port can thus see the painting and calligraphy of Jeannine Platz in the future.