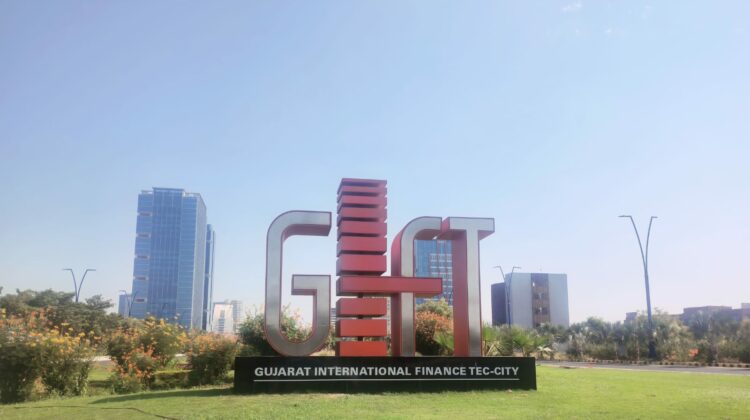 IFSCA seeks nod to permit foreign flag ships to operate from GIFT City
GANDHINAGAR : The International Financial Services Centres Authority (IFSCA) has sought the intervention of the Directorate General of Shipping (D G Shipping) to permit foreign flag ships to operate from the GIFT City, Gujarat after steel-maker ArcelorMittal said it was keen to shift one of its ships from Singapore to IFSC-GIFT City but on the condition that it is allowed to continue flying the foreign flag.
If allowed, it would be a radical shift in approach by India as it looks to become a maritime hub on the lines of Singapore, Dubai, Hong Kong, Shanghai, London, Athens, New York, Tokyo and Oslo.
ArcelorMittal, according to sources, has impressed upon the IFSCA the need to continue flying the foreign flag after switching to IFSC-GIFT City because lenders are "not comfortable with the Indian flag".
The Gujarat International Finance Tec-City (GIFT City) is India's first International Financial Services Centres (IFSC) under the Special Economic Zone Act.
The IFSC was set up as an offshore centre within India to onshore India focused business carried out in other parts of the globe. "Much of these businesses have migrated from India because of the fact that there is a tax problem, ease of doing business problem or there is a policy problem relating to a sector," K Rajaraman, Chairman, IFSCA, said on 19 October at the Global Maritime India Summit.
When asked during a session at the Global Maritime India Summit what more incentives it would need to operate from IFSC, a representative of ArcelorMittal said that "the ability to fly foreign flag" is what he would like to see.
Currently, only Indian flag ships are allowed in IFSC-GIFT City (like in the Domestic Tariff Area) because it comes under the Merchant Shipping Act, 1958. IFSCA has powers under multiple acts but not under MS Act, which mandates that Indian shipping companies have to register their ships under the Indian flag only.
"The IFSCA has submitted a representation to the DG Shipping to see what can be done about it," said an official with the Ministry of Ports, Shipping, and Waterways.
Some Indian shipping companies have moved operations to Singapore and Dubai because in India they cannot run foreign flag ships, typically registered under flag of convenience (FOC) such as Marshall Islands, Cyprus, Panama, Liberia, among others. But by domiciling their business overseas, they can fly foreign flags that help secure bank loans easily.
"The idea is to bring back those who have left India for operational and tax reasons and also foreign shipping companies to IFSC," the Ministry official said.
IFSCA is wooing shipping companies to set up ship leasing units in the GIFT City, offering a host of tax incentives and exemptions, such as tax holiday for ten years, no capital gains during tax holiday, stamp duty exemption for five years and no capital gains on transfer of ships by a IFSC unit enjoying 100 percent tax exemption. Additional exemptions have also been granted on income generated by way of royalty or interest paid on account of leasing of ships.
"That (IFSC) can really develop as a haven for ship leasing," Finance Minister Nirmala Sitharaman said on 19 October at the Global Maritime India Summit.
However, some shipping companies that are interested in operating out of IFSC GIFT City have expressed concern over the stipulation that makes it mandatory to fly the Indian flag per the MS Act.
This is because Indian flag ships are by law required to hire only Indian nationals as crew and have to be mandatorily classed with the Indian Register of Shipping, India's ship classification society and a member of the International Association of Classification Societies, that verifies ships for sea worthiness.
"Nearly 75 percent of the world's shipping tonnage are controlled by the so-called flag of convenience (FOC) or open registry because lenders control the FOC rules and are comfortable with it," said a shipping industry consultant.
Flag of convenience (FOC) or open registry is a business practice whereby a ship owner registers a ship in a ship register of a country other than that of the ship's owner. FOC does not levy any tax on ship owners but charge an annual amount based on the gross registered tonnage (GRT) of a ship.
Most Greek and other European ship owners are flagged in FOC. Hardly any ship owner in Dubai flies the UAE flag. "It's not about the flag, it's about where the beneficial ownership and control of the vessel is based," the shipping consultant said.
Singapore- the world's top shipping hub – is just a collection of global maritime capital and talent. The Singapore flag gained in prominence after they tweaked the rules more in line with FOC registries, he said.
"India can also allow foreign flag ships to service from IFSC. If they are able to match the service being offered globally, then why not," he asked.
While the conventional wisdom is that the MS Act need to be amended to allow foreign flag ships to operate in IFSC-GIFT City, the Ministry official said, "The issue is under examination, and I don't have the visibility to tell you whether it requires an amendment to the MS Act (which is a long drawn process requiring Parliament nod) or if there is a faster way of doing it".
"The aim is to see how India's maritime sector can gain, how we can become competitive and attract offshore entities back to India so that it plays to India's advantage," the Ministry official said.
"It is necessary not only to boost the economy but also from a strategic perspective, so that when the need of the hour comes, it can play in our favour," he said referring to the fallout of the Russia-Ukraine war on shipping and India's over dependence on foreign ships to carry export-import cargo.
The Ministry official also pointed out that Indian shipping companies are "protected" by a so-called right of first refusal (ROFR) in public tenders issued by state-run firms which was in favour of Indian flagged, Indian owned companies.
A "balanced approach" was, hence, needed to increase Indian tonnage and to bring back Indian shipping companies that had moved overseas to tax friendly jurisdictions.
"From IFSC we can cater to the world in the same way Dubai and Singapore are doing," he added.