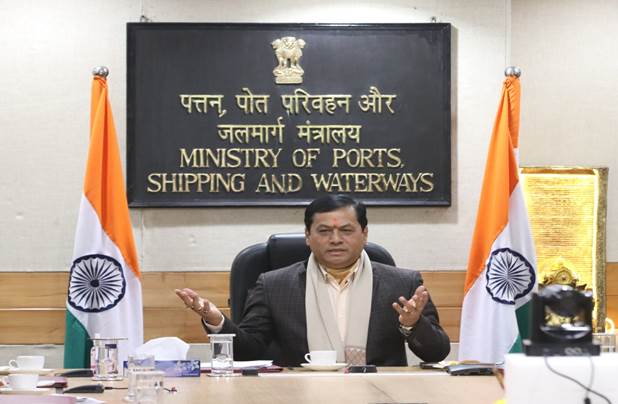 India expects ₹10 trillion pacts at GMIS 2023 : Sonowal
NEW DELHI : India expects to sign investment pacts worth ₹10 trillion during the Global Maritime India Summit in Mumbai slated for 17-19 October, Union Minister for Ports, Shipping and Waterways Shri Sarbananda Sonowal said.
In an interview, Sonowal said India is in talks with Russia to operationalize the recently proposed route of Chennai to Vladivostok, potentially reducing the maritime journey between the two countries to a mere 12 days. The development will facilitate trade between the two countries by providing a faster and cheaper way to transport oil.
Edited excerpts from an Interview
India is hosting a major maritime event for the first time. What do you expect from this summit?
The Global Maritime India Summit 2023 is a pivotal event on the maritime calendar, and it holds immense significance for India and the world. For India, it is an opportunity to showcase our remarkable progress and potential in the maritime domain. The summit not only fosters collaboration and knowledge-sharing but also attracts investments and partnerships. It's a chance for us to attract global players to invest in our ports, shipbuilding, maritime logistics and other related sectors. We aim to position India as a preferred destination for maritime trade, innovation, and investment.
India is looking to strengthen and modernize its maritime sector. Which areas would you solicit investment from the global community?
India presents a vast canvas of opportunities for global investment in its maritime sector. To strengthen and modernize this crucial domain, India seeks investments across various key areas. Firstly, port infrastructure development stands out as a prime avenue. India's major ports require significant expansion and modernization to handle larger vessels and increasing cargo volumes. Foreign investment in port infrastructure can enhance efficiency, reduce turnaround times, and ultimately contribute to smoother international trade operations. Secondly, the development of inland waterways is another area ripe for global investment. Additionally, investments in shipbuilding technology, such as eco-friendly vessels and digital solutions, would be welcome as India strives to become a global hub for green shipbuilding and maritime innovation.
Is there a target for investment commitments from the summit?
An investment commitment of up to ₹10 trillion is expected to span across ports development and modernization, shipping, inland waterways, technology and innovation, green shipping, tourism, education, skilling, etc. Previous editions of the summit have witnessed over 600 memorandums of understanding worth ₹4.5 trillion collectively across both editions (2016 and 2021) and have translated into several successfully executed projects. The upcoming 2023 edition is poised to far surpass the previous editions.
What is the progress on the Eastern Maritime Corridor, connecting Chennai with Vladivostok and further going into the Arctic route?
Talks are underway. Russia and India are trying to operationalize the Chennai to Vladivostok route, the shortest route. Talks have not been completed yet; discussions took place at the (recent) Eastern Economic Forum. To materialize this particular waterway, a very important workshop is going to be held in Chennai from 30 October to 1 November. In this workshop, leading players of the maritime industry will take part. There will be discussions in detail…which cargo would come from there and what would go from here, what would be economically viable, all these will be discussed in detail. We hope that after the discussions in a very short time, the route will be opened. We can cover Chennai to Vladivostok in 12 days. Currently, it takes a ship 40 days to come from St. Petersburg to Mumbai via the Baltic.
Is the government considering a new policy push to attract investment and foster collaboration in the Indian maritime sector?
Policy changes or regulatory reforms are always variable in nature as per the ministry's requirement. The Indian maritime industry has been a crucial pillar of our nation's economy, facilitating trade, commerce, and connectivity with the rest of the world. However, to maintain and improve its competitiveness, it will continue to adapt to the changing global landscape, and this adaptation is strongly tied to the policies and regulations governing it.
India's ambitious "Maritime India Vision 2030″ aims to transform the nation into a leading global maritime power. This visionary plan focuses on several key areas, including infrastructural and policy reforms, which are vital for competitiveness.
Streamlining processes for ship registration, customs clearance, and cargo handling have made Indian ports attractive and future policies aligned to this objective will continue to support Indian ports by attracting more global shippers and investors. Environmental sustainability is a global priority. Policies encouraging the adoption of cleaner fuels and technologies align with international trends and can enhance India's reputation as a responsible maritime player. Further, India has been actively engaging in bilateral and multilateral agreements and strengthening these agreements will provide Indian maritime businesses with increased access to international markets.
The just concluded G20 summit, in its declaration, talked about the India-Middle East-Europe corridor, and you have also talked about an eastern corridor. How will these maritime initiatives be facilitated?
The India Middle East Europe Economic Corridor is a transnational rail and shipping route spread across two continents and is expected to stimulate economic development through improved connectivity and economic integration between Asia, the Arabian Gulf and Europe. The corridor holds significant potential to improve trade accessibility in India, thus contributing to economic growth. It will give India a more efficient trade route to access markets in Europe, Asia and the Arabian Gulf. As trade volumes along the route grow, there will be a higher demand for logistics and transportation services, including trucking, warehousing, and port operations.
To accommodate the expected increase in cargo traffic along this route, Indian ports will need to expand and modernize their facilities. This is essential to ensure efficient cargo movement and reduce transportation costs along this corridor. Secondly, international cooperation is crucial. India actively engages in diplomatic efforts to forge partnerships and agreements with Middle East and European countries and other relevant stakeholders. The success of these maritime initiatives will depend on a combination of strategic investments, international collaborations, and the adoption of advanced technologies, all aimed at fostering seamless connectivity and trade between India, the Middle East, Europe, and other regions.