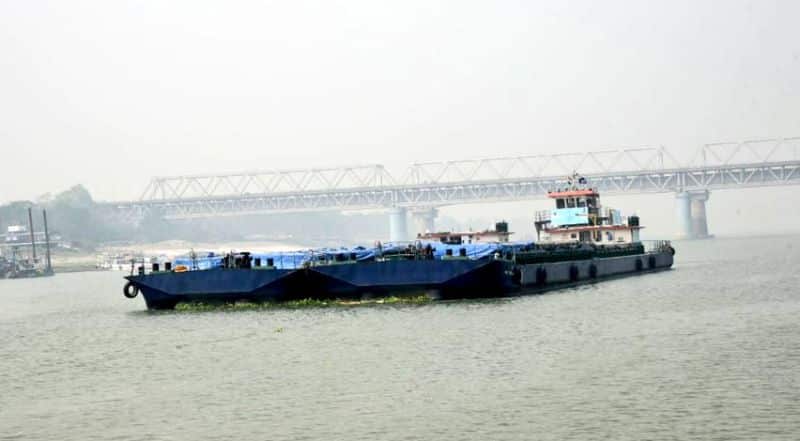 India is eyeing on ₹35KCr investments by 2047 to create a network of waterways
NEW DELHI : Sanjay Bandopadhyaya, Chairman of the Inland Waterways Authority of India (IWAI), said that India is eyeing an investment of ₹35,000 crore by 2047 to create a network of waterways in the country.
The plan to be implemented over the next 25 years will include developing waterways and jetties to improve the navigable capacity of Indian rivers. Bandopadhyay said the world's longest river cruise, which will be inaugurated by Prime Minister Shri Narendra Modi on Friday, covers two national waterways (NWs) and goes through Bangladesh.
"This cruise will cover a distance of more than 3,200 km across NW1 (Ganga-Bhagirathi-Hooghly), Indo-Bangladesh Protocol (IBP) Route 1 and NW2 (Brahmaputra). This reinforces the resolve that this route is ready for movement of cargo and passenger services," Bandopadhyay said.
It is the first river cruise to connect Uttar Pradesh, Bihar, Jharkhand, West Bengal and Assam. It begins from Varanasi (UP) and concludes in Dibrugarh (Assam). The maiden voyage will ferry 32 tourists from Switzerland. The expected date of arrival of MV Ganga Vilas in Dibrugarh is on March 1, 2023.
"The plan is to have 150 vessels conducting such river tours over 80 circuits. It will entail an estimated investment of ₹35,000 crore by 2047," he added. This capital expenditure will predominantly be for developing waterways and jetties to make the rivers more navigable for larger vessels.
A circuit is a route covering major tourist destinations which are distinct and apart. The IWAI has already identified the Mongla, Barisal and Narayanganj circuits for river cruise operations on the IBP route.
Bandopadhyay said the private sector will be encouraged to make this investment as there is significant visibility for recovering the expenditure.
Commenting on the way ahead, he said more such services are going to begin with the enhancement of river cruise in India's southern backwaters on the cards.
According to the shipping ministry, four river cruise vessels are operational in NW2. River cruises are also operating in limited capacity in Kerala, Andhra Pradesh, Telangana, Karnataka, Tamil Nadu, Maharashtra, Gujarat, West Bengal, and Odisha.
"As the capital expenditure is pumped to build capacity in the inland waterways, the river cruise is set to grow further with systematic forward and backward linkage for the economy, especially across the banks of the rivers," a shipping ministry statement said.