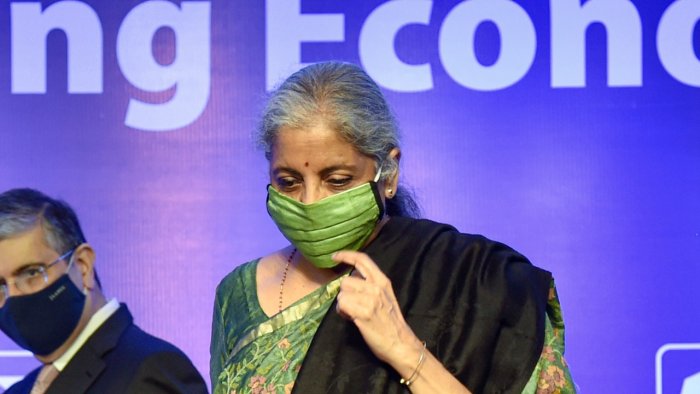 India still among the fastest growing economies despite COVID-19: Nirmala Sitharaman

---
NEW DELHI : The Indian economy's resilience is highlighted by the fact that it has recovered sharply after COVID-19, and is still one of the fastest growing economies in the world despite the pandemic, Finance Minister Nirmala Sitharaman said on November 17.
Addressing the inaugural ceremony of CII Global Economic Policy Summit 2021, the FM said, "Auto sales in India would have also been good if it had not been for the semiconductor shortage and shipping container shortage."
Labour markets have realised their importance due to the COVID-19 pandemic. The value of skill has gone up…. workers are in a different bargaining position and industries have recognised this," she added.
Among other things, Sitharaman said that government departments are moving fast on undertaking infra spending. She also said that India's banking sector has also recovered remarkably after the pandemic, adding new age industries including startups to be very important for growth of the economy.
Speaking on the issue of climate crisis, the FM made it clear that India is very committed to its set goals in the COP26 summit. "Need to focus on natural gas as a transitional fuel towards use of green energy," she said, adding, "Despite government's commitment towards to the use of natural gas as a transitional fuel, high global crude oil prices present a challenge for India to import more natural gas."
The Indian industry should look to expand capacity and increase investment in green fuels in order to help India meet its COP26 goals, Sitharaman added.
Earlier on November 1, Prime Minister Shri Narendra Modi had announced that India will achieve the target of net-zero carbon emissions by 2070.
In his speech at the inaugural leader's summit, which was part of the COP26 in Glasgow, PM Modi said India will increase its non-fossil energy capacity to 500 GW by 2030 and will fulfil 50 percent of its energy requirements from renewable energy sources by 2030.
Meanwhile, Sitharaman said the government is working to to remove compliance burden for the Indian private sector. New-age industries will bring in demand for conventional products and will act as catalysts for a big change, she added further.
Under the credit outreach programme, over Rs 75,000 crore have been disbursed in 4-5 categories, according to the minister. On the issue of imports, the minister was of the opinion that there is a need to control flooding of imports on goods such as essential products as it is not desirable to import them fully.
Speaking on the banking sector issue, FM said that initiatives taken up by Public Sector Banks (PSBs) showed an outstanding performance by earning profit in the first half of this financial year, nearly equal to that of the last full financial year. Facilitated by sustained recovery efforts, PSBs efficiently brought down the Net NPA to 2.9 percent for the quarter ending September 2021, lowest in seven years.
Drives taken up by Scheduled Commercial Banks (SCBs) resulted in a significant increase in credit growth from 5.1 percent in September 2020 to 6.8 percent in September 2021," the FM said. PSBs raised market equity to a notable amount of over Rs 10,000 crore in the first half of this financial year, almost equal to that of the last financial year, she added.