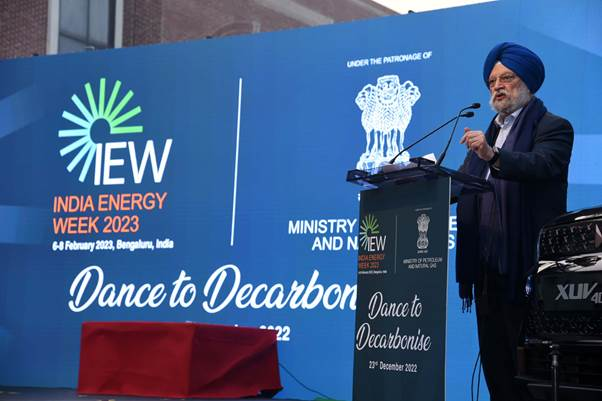 'India transitioning to Green Energy fast but will import from anywhere for energy security': Hardeep Singh Puri
NEW DELHI : Union Minister for Petroleum & Natural Gas Shri Hardeep Singh Puri on Monday said India was world's third largest energy consumer and it was not shy on importing from anywhere to meet the country's needs.
Speaking at the India Energy Week (IEW) 2023, the Minister said India was making rapid moves on the energy transition front but was ready to play the "market card" and import from wherever the fuel was available to meet the requirements of the country.
India has been drawing some ire from the EU and western countries for its oil imports from Russia at a time when the country is facing massive sanctions due to its war on Ukraine. The sanctions have forced Russia to sell fuel at discounted rates, but this has also meant that it's become the top supplier for India.
Puri said that India was making long-term supply arrangements, which are predictable and would be reliable.
India's crude oil imports from Russia have spiked drastically since the beginning of the Ukraine-Russia war, rising from a market share of less than 1 per cent in India's imports to 1.27 million barrels per day in January. This market share is now at 28 per cent, according to Vortexa.
The Minister said, "In a large democracy like India where 60 million people go to the petrol bunk every morning to fill up and 5 million barrels are consumed in a day, energy security means not having to worry about whether that crude is going to be available or not."
Earlier at the IEW inauguration ceremony, Prime Minister Shri Narendra Modi launched multiple green energy initiatives including an ethanol blending programme. He rolled out E20 fuel at 84 retail outlets of Oil Marketing Companies in 11 States/UTs. E20 is a blend of 20 per cent ethanol with petrol.
The PM also flagged off the 'Green Mobility Rally'. The rally witnessed participation of vehicles running on green energy sources to help create public awareness for the green fuels.