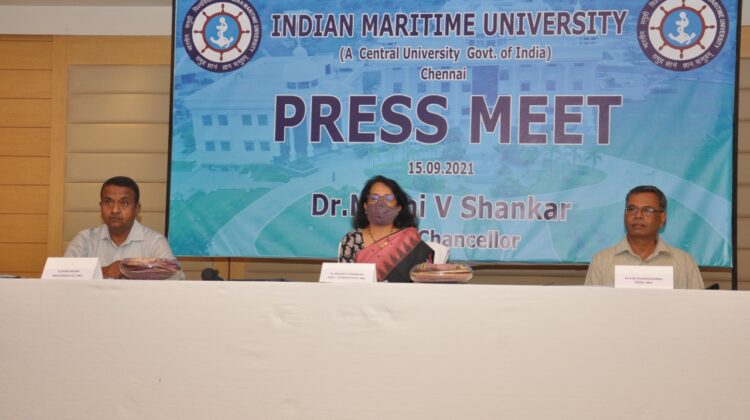 Indian Maritime University creates skilled workforce in maritime industry which has huge employment opportunities: Vice Chancellor

---
CHENNAI : Vice Chancellor of the Indian Maritime University Dr Malini V Shankar said though the global economy was affected, 70 per cent students of the institute got good job opportunities in the last five years.
Speaking to the media in Chennai, she said as per the National Education Policy 2020, curriculum has been revamped and the university is creating skilled workforce through research, quality education and partnership with industries.
According to Dr Malini Shankar, the Indian Maritime University has signed MoUs in education and research with the Maritime Universities in Russia, Mauritius, The Netherlands and Philippines.
MoUs have also been signed with 10 top Shipping institutes including National Institute of Ocean Technology, Thoothukudi VOC Port and Inland Waterways Authority of India and training is being given to students.
Under Sagarmala Scheme, training is being given in association with VOC Port in logistics management, sailing and inspection. Andaman and Nicobar Port has been signed as the special training institute, she said.
Dr Malini Shankar said training is being provided by the university at its institutes in Chennai, Visakhapatnam, Kolkata, Mumbai Port and Navi Mumbai.
Stating that the supply chain was disrupted during the Covid pandemic times, she said training was given to students to handle any disaster in the future.
The Vice Chancellor said there is less awareness on jobs in shipping sector though it is responsible for 95 per cent global logistics and 70 per cent cargo in terms of value being transported through ships.
She urged students to come forward to take up courses offered by the University. Indian Maritime University Registrar (In-Charge) Shri Saravanan and Principal Shri Sivakozhundhu were also present.
---