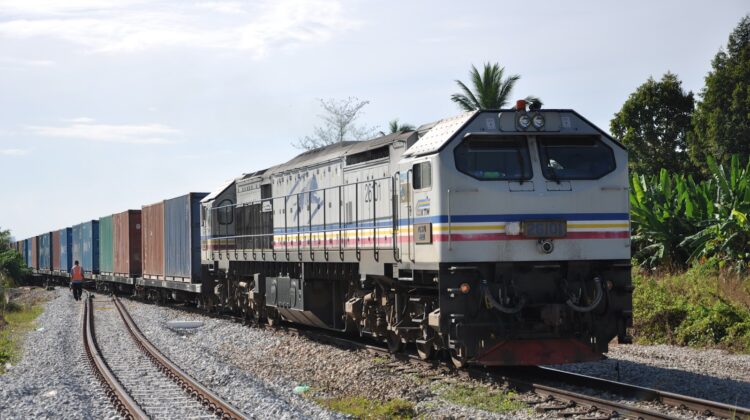 Indian Railways' aggressive plan to increase auto freight to impact road logistics
With Indian Railways (IR) chalking out well-laid plans for increasing its market share in freight transport from 28 percent to present to 44 percent in the long term, it is likely to impact the road transport business. The Railways plans to do it by reducing tariffs on some commodities, apart from increasing train speed and other measures for better efficiency.
Offering a perspective to the development, HDFC Securities in its analysis indicates that even a potential shift of a million container TEUs (20-foot-equivalent units) to rail from the Western ports out of the total 12 million TEUs tonnage will result in an increase of 1.30 percent in railway-based cargo.
This will correspondingly impact logistic traffic on roadways which will also affect the utilisation rates of Medium and Heavy Commercial Vehicles (M&HCVs). The current fleet size of M&HCVs on road is about 4 million vehicles and hence it will impact one percent of the overall truck fleet.
A positive outcome of such development will that it will ease movement of traffic across the country by reducing road traffic congestion while also ensuring lesser emissions and consumption of what is turning out to be expensive diesel. Diesel price continues to see a hike and it has touched Rs 81.87 a litre in Mumbai today. Most M&HCVs have 400-litre tanks which means tanking up costs Rs 32,748 at one go.
Looking to regain market share
The Indian Railways (IR) is targeting to increase its market share from the current 28% to 44% in the longer term (FY2051) as per the National Rail Plan (NRP) document released recently. The 1,178-page document has set near-term targets of 33% in 2026, 39% in 2031, 43% in 2041 and 44% in 2051. Under the base case of the railways, it proposes to double the speed of trains to 50kph gradually and reduce tariff on selected commodity items by 30%.
Over the years, the Railways lost market share due to capacity constraints and restricted speeds. It is pertinent to note that share of rail in freight movement having leads beyond 300km has fallen from 51.5% (765 MT) in FY2008 to 32.4% (727 MT) in FY2019. While the quantum of freight movement has remained the same by IR, the share has fallen due to limited capacity amidst an overall increase in freight generation. Railways can gain share in the long lead segments as capacity increases, claims the NRP report.
Railways targets 30% auto freight traffic by FY2024
After deploying 731 rakes between April and September 2019, the Indian Railways network has attained speedy growth in its automobile freight transportation domain by loading 836 completely-stacked trains with new automobiles produced fresh off the assembly lines of different carmakers in the April-September 2020 period. That marks impressive 14 percent year-on-year growth, considering the fact that the initial months of FY2021 – April and May – saw business hugely impacted by the countrywide lock-downs to contain the spread of the coronavirus.
Common rail route to speedy, cost-efficient logistics
Clearly, India Auto Inc is finding good value in transporting its finished goods by the rail route rather than sticking to the conventional truck logistics model. Immediate benefits to OEMs include the Indian Railways' expansive network, better reliability and cost efficiency compared to road logistics. Moreover, it also allows offsetting the carbon footprint as a single train can replace several trucks running on the road.
For instance, in the case of Maruti Suzuki India, the company has saved 3,000 MT of CO2 emissions getting into the environment and 100 million litres of diesel by shipping over 670,000 cars by rail since March 2014. Rail logistics for automotive freight, therefore, has come a long way in the country and what started off with Maruti Suzuki India in March 2014, carmakers including the likes of Tata Motors, Honda Cars India, Hyundai Motor and newcomers like Kia Motors India have also jumped on the bandwagon recently by dispatching over 5,000 cars on the rail route from its plant in Anantapur, Andhra Pradesh to dealers all across the country.
The Indian Railways, which only loaded 429 rakes in FY2013-2014, saw a total of 1,595 rakes delivering cars in FY 2019-2020, a CAGR of 24 percent. Betting high on the demand from the automotive industry including freight of newly manufactured automobiles as well as tyres, the Indian Railways is aiming to achieve a modal share of 20 percent by FY2021-2022 and increasing it to 30 percent by FY2023-2024.
In this regard, Minister of Railways, Commerce and Industry, Piyush Goyal, met automotive industry leaders on October 10 to assure OEMs and gain business for railways by enhancing automobile loading and transportation using the cost-efficient rail freight operation. The minister also announced several measures taken by the Indian Railways to facilitate automobile loading on rakes, the major one being opening up of seven new terminals for automobile loading including Chitpur (Eastern Railway), Penukonda (South Western Railway), Nasrala (Northern Railway); three terminals on the Northeast Frontier Railway zone – Salchpara, Furkating and New Tinsukia – and Nautanva (North Eastern Railway) – for traffic to Nepal.
In total, approximately 52 railway terminals are now available for automobile loading and all private sidings, private freight terminals (PFTs) and inland container depots (ICDs) can handle automobile traffic.