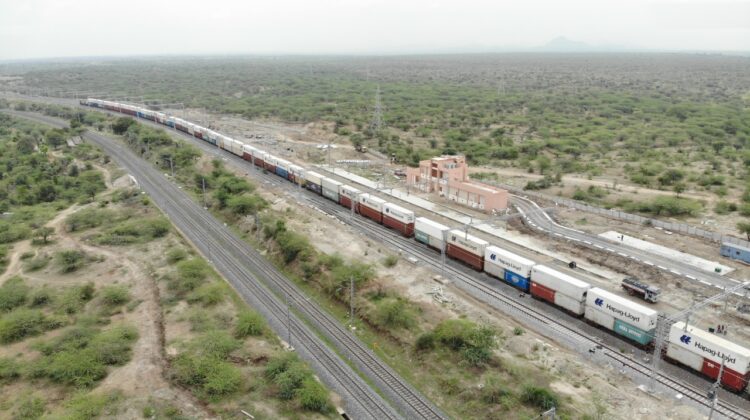 Indian Railways successfully conduct trial of first Double Stack Container Train from Mundra Port to CONCOR MMLP
PALANPUR : Indian Railways on Sunday, achieved a new milestone in seamless connectivity with Gujarat Ports with the First Double Stack Container train run between Mundra Port in Gujarat to Concor Multi Modal Logistics Park (MMLP) at Kathuwas in Rajasthan. The double stack container freight train from Mundra Port (MDCC) – Concor MMLP at new Kathuwas (CMLK) having total tonnage of 2,480 ton arrived at Dedicated Freight Corridor (DFC) New Palanpur (NPNU) at 07:00 am on Sunday and departed at 7:05 am.
The rake contained 178 containers with 5 destined for New Kathuwas in Rajasthan (NCR), 78 for Dhandari Kalan railway station in Ludhiana, 90 for Dadri (NCR) in Uttar Pradesh and 5 for Panitola Railway station in Dangar Chuk, Assam.
The rake from Mudra Port to to CONCOR Khatuwas was released on June 19 with 178 TEUs of CMLK, DDL, PNT and DER. Major commodities coming as imports are – Glycerine, Softwood pulp, Base paper, aluminium scrap, spare parts, electric parts, machine, compressor, spray parts, knitting Machine, polyester fabric.
With this move it is expected that ports in Gujarat like Pipavav, Kandla, Mundra, Hazira and Dahej will have faster connectivity with North and North East India.
Source : DFCCIL