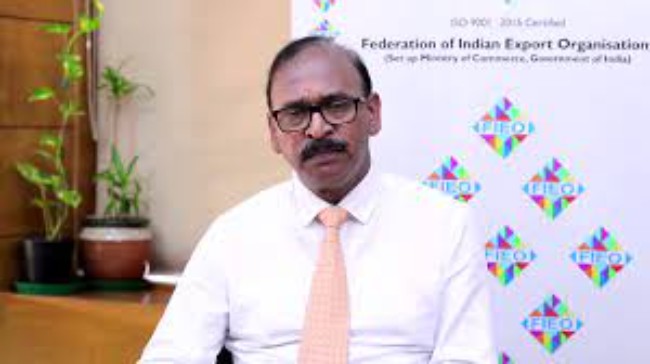 India's exports set to grow on the back of effective FTAs & PLI, global value chain integration : FIEO
NEW DELHI : India's exports – which touched $405 billion in the first 11 months of last year – is expected to be at around $440 billion for calendar year 2022 and around $480-$500 billion by the end of 2023, said Dr Ajay Sahai, Director General and Chief Executive Officer (CEO) of the Federation of Indian Exports Organisation (FIEO).
While India's exports touched a record high of $422 billion in 2021-22, an impending recession in key Western markets and a geo-political crisis stirred by the Russia-Ukraine war are being touted as possible factors likely to impact the growth of the country's exports in 2023. However, Sahai, who heads FIEO, the apex body of Indian export promotion organisations, believes India, to a large extent, will not be much impacted by the global slowdown, though it will not be completely insulated either.
Sahai was speaking to Miloni Bhatt, Editor – Digital Broadcast, where some of India's most influential decisionmakers share their outlook and insights on the challenges, opportunities, and trends that will define India's rise to a global economic powerhouse, buoyed by three key pillars of the economy: digital financial services, MSMEs, and transit infrastructure.
"There are some positives, which India will carry into 2023, which will help India to continue to be on the growth path as far as exports are concerned. The positives for India would be that we have already carved out a very effective Free Trade Agreement (FTA). Secondly, we also feel that the Production-Linked Incentives (PLI) scheme will add to incremental production with new sectors joining the production. Thirdly, we are seeing that India will be more integrated into the global value chain," Sahai said.
However, even though India is the fifth largest economy with the second-highest population in the world, it lags in global trade, with a share of 2.91% as per the World Bank and 2.44% as per the IMF. In fact, India aims to raise the share of its exports in global trade to 3% by 2027 and 10% by 2047, as one of its goals under the umbrella of 'India at 100'.
"One of the major problems in India's export is the structural nature of our exports. 30% of our exports are targeted to a segment that contributes to 70% of global imports, and 70% of our imports are chasing a market that is just 30% of the global imports," said Sahai, citing the example of the electrical and electronic machinery and automobiles segments, which, when put together, account for 35% of the global import, with a whopping import size of over $6.7 trillion.
"In this segment, our share is less than 1%. And so, we have tremendous opportunities. And that's why we are pinning our hopes on the PLI scheme because if the PLI scheme can start yielding results in these segments, we will be increasing our exports significantly; we are looking into taking our share of exports to 3% and 5% by 2026 and by 2030, respectively," Sahai added.
In 2020, Union Finance Minister Smt. Nirmala Sitharaman announced an outlay of Rs. 1.97 lakh crore for the PLI scheme across 14 key sectors, including automobiles and electronic and tech products, to create national manufacturing champions and generate 60 lakh new jobs, as well as an additional production of 30 lakh crore by 2025.
"So far, the result of the PLI scheme has been extremely encouraging with respect to mobile phones. Today, we are a net exporter of mobiles. Our total mobile import bill is less than our mobile export bill," said Sahai. For example, last fiscal, India's mobile phone exports touched around $7.7 billion. This year, India is expected to see that increase to around $9-$10 billion.
A distinct shift in India's FTA strategy as well as the recent FTAs entered into with markets like the UAE and Australia, in addition to the ones expected to be signed with the UK, Canada, Israel and the Gulf Cooperation Council (GCC), will not only open up new markets for exporters in the country but also help drive foreign direct investments (FDIs) as global companies increasingly look to leverage India as a source of their global supply, said Sahai.
"So far as the FTAs are concerned, I think a very distinct shift has happened in our FTA strategy. Today, we are focusing more on the countries who have complementary economies and on major markets. One of the major criticisms of India's FTAs has been that we have FTAs with the countries where we have seen a surge in imports as compared to exports. But I think that trend will now reverse and this will be a very positive sign," Sahai added.
Looking ahead, as India becomes more integrated into the global chain, buoyed in part by the China+1 policy adopted by Western markets, Indian exporters will need to be cognizant of the labour and environment requirements of importing countries and move proactively to meet them, said Sahai.
Strengthening India's labour and environmental standards will go a long way in boosting the country's exports over the next decade or so, he signed off.
Source : ET