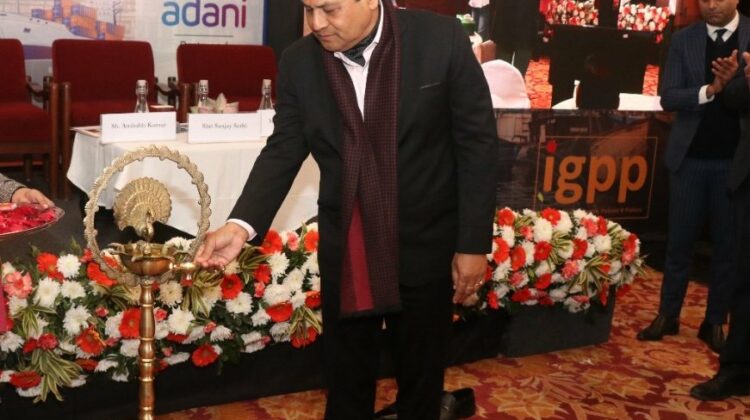 MoPSW launched 'Bharat Pravah', drive to mark role of rivers, ports and shipping
NEW DELHI : Union Minister of Shipping, Waterways, and Ports, Shri Sarbananda Sonowal recently launched a unique drive to highlight the role of rivers-ports-shipping in the everyday life of a common man through a series of events. Regional, national, and international dialogues, conferences, and awards have been planned in this regard.
"At a time when our Prime Minister Shri Narendra Modi is leading the world on a new path, the initiative by the Institute for Governance, Policies, and Politics (IGPP) to bring forth the significance of shipping, ports, and waterways to the minds of common people, is appreciable. It will create awareness about the issues of the industry," said the Minister.
He reminded that while rivers and seas remain central to our spiritual life, we are no longer concerned about riverbeds, and the cleanliness of our rivers as we have become used to running water from our taps. "No longer are the songs celebrating our rivers, expressing our sorrows when they flood, and praying for seafarers' safety part of our daily existence. Such traditions have remained limited to communities settled on riverbanks and coasts," the Minister added.
It is important that people living on the land are also reminded of the significance of rivers and seas. This should become part of our social psyche, the 'janmanas', of our people. The Government under its flagship program Sagarmala, has aimed to achieve port-led development and integrate the common people in India's success story, Sonowal said at the event which was graced by Member of PM Economic Advisory Council, Sanjeev Sanyal; Ex-Secretary, MoPSW Gopal Krishna; Chairman, Jawaharlal Nehru Port Trust, Sanjay Sethi; Director-General of National Heritage Maritime Complex, Prof. Vasant Shinde; CEO Adani Ports, Subrata Tripathi; Dhruv Kotak of JM Baxi were among others who attended the event.
Bharat Pravah is being organized at a time when India is celebrating Azadi ka Amrit Mahotsava with a focus on the economic, cultural, and historical significance of India's waterways, ports, and shipping. It is also important to understand its contributions to our everyday life and various nuances attached to it which presently we are largely either unaware of or ignored, said Dr Manish Tiwari from IGPP.
He said that in the next few months, a string of events is lined up. These would center around the topics such as Rivers and Sea-Centric Development in India: Through a Historical Lens; Sea, Rivers, Ports, and Ship in Folk Culture and Literature; Their Representation in Popular Culture; Role of Shipping and Ports in India's Development; The Politics and Economy of Privatisation of Ports; Inland Waterways: Arteries of Growth, their Role, and Significance; Greening Ports and Shipping Industry; Future of Ports and Shipping Industry- Management, Challenges, and Policies.
The events would be organized at the key hubs of waterways, ports, and shipping across the country at Mumbai, Kolkata, Guwahati, Visakhapatnam, Varanasi, Calicut, and others. It would cover the expanse of Bharat- from Dwarika in the West to Guwahati in the East; from Varanasi in the North to Rameswaram in the South, said Dr. Tiwari.