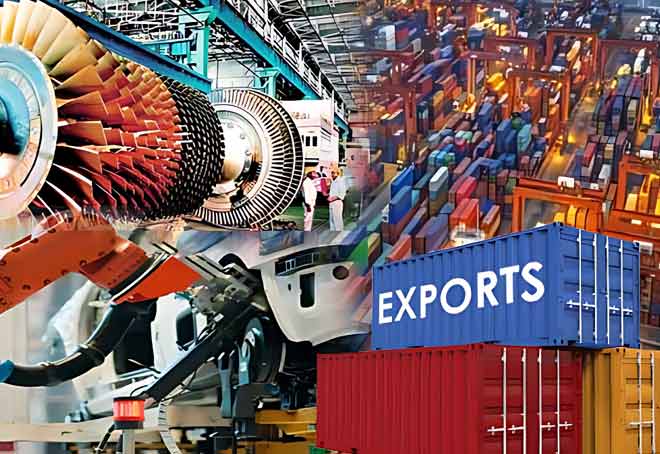 India's merchandise exports may cross $500 billion this fiscal
NEW DELHI : The country's merchandise exports are likely to cross $500 billion this fiscal due to healthy demand for domestic goods in key global markets, including the US, and benefits from trade pacts, according to exporters. They said that other destinations like Russia would give a huge boost to the country's outbound shipments, particularly in the agri and food processing sectors.
Federation of Indian Export Organisations (FIEO) said they are targeting to take the shipments to $500 billion-510 billion during the current financial year. Services exports are likely to reach around $390 billion in 2023-24 from $322.72 billion in 2022-23. "Together with goods and services, we are targeting exports of $900 billion this fiscal," FIEO Director General Ajay Sahai said.
He noted that free trade agreements with the UAE and Australia would provide a huge platform to boost exports in those markets. "Production-linked incentive scheme too will provide an impetus to our exports as domestic production would jump due to the incentives," Sahai added.
Ludhiana-based engineering exporter and Hand Tools Association President SC Ralhan said there are healthy signs of economic growth in the US, which accounts for about 18 per cent of India's total outbound shipments. "Order books are good and we expect that going by the current trend, our exports would cross $500 billion this fiscal," he said.
India's exports rose by over 6 per cent to $447.5 billion in 2022-23 compared to $422 billion in 2021-22. Mumbai-based exporter and Chairman of Technocraft Industries Sharda Kumar Saraf too said that this fiscal would be better than the last year for India's exports.
"The impact of the Russia-Ukraine war is tapering off as industry has found an alternate route for trade and sources of energy. In India, there is a significant improvement in infrastructure and that would give solid support to exporters," Saraf said.
Going by the current trend, the exports would cross $500 billion in 2023-24, he added. Engineering exporter and Director of Geco Trading Corporation Khalid Khan said that labour-intensive sectors are doing good and it would help in increasing the shipments."I expect that the export growth will be better than the last fiscal," Khan added.