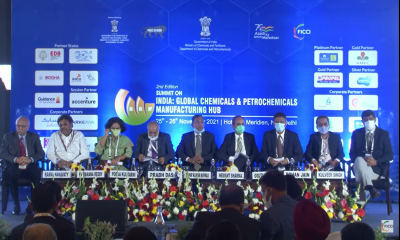 India's PCPIRs gear up for next phase of growth
NEW DELHI : The notified Petroleum, Chemicals and Petrochemical Investment Regions (PCPIRs) in the states of Tamil Nadu, Andhra Pradesh, Odisha, and Gujarat in India are witnessing heightened attention from the respective state governments. Given the rush, they are now competing heavily to attract big ticket investments for upcoming projects and further expansion.
Exhorting the chemical industry to invest in his state, Thangam Thennarasu, Minister for Industries Department, Government of Tamil Nadu said, "Tamil Nadu is the third largest contributor to the national chemical outlook, with a strong chemical industrial ecosystem. It houses more than 2,500 chemical manufacturing units. Aspiring to be a US $1 trillion economy by 2030, the state has duly recognized the importance of the chemical and petrochemical sector.
"Accordingly, our government has categorized the specialty chemical and petrochemical sectors as sunrise sectors. We recently witnessed commitment from 50 large companies for investment of Rs. 35,000 crore in large projects in Coimbatore. These will lead to employment for 75,000 people. We have developed the polymer park spread over 306 acre near Chennai to cater to plastic manufacturing and logistics. The state's strategic location is complemented by its logistics including 4 major ports and 5 international airports. The gigawatts power capacity, industry friendly policies and productive government that understands the business requirements sets it apart from others."
Pooja Kulkarni, MD & CEO, Guidance Tamil Nadu, calls the state as one of the top investment destinations in India. "The state is third largest in manufacturing and exports, with chemical production being highest in the country in terms of output. With more than 2,500 factories, highest in the country, it has three petrochemical complexes which present abundant opportunities for downstream industries. These include one by Haldia petrochemicals in Cuddalore, another by Al Kharafi in Thoothukudi, and third one by CPCL in Nagapattinam. There is also a polymer park coming up in Chennai."
"At the government level, we offer attractive packages such as fixed capital subsidy, flexible capital subsidy and turnover based subsidy to the companies. As the nodal investment promotion agency, we are at the forefront of facilitating investments in Tamil Nadu. We have facilitated investments worth US $35+ billion in Tamil Nadu since 2015. We have launched Tamil Nadu Single Window Portal 2.0 which facilitates investors with its 100 plus services including location advisory, incentive support, approvals and clearances, after care and is open 24*7. We have 40+ member team focused sector wise facilitation and outreach."
Making his pitch, N. V. Ramana Reddy, Ex-Officio Special Commissioner, Government of Andhra Pradesh said, "Being 8th largest state in India in terms of area, Andhra Pradesh has got many key advantages for PCPIRs. It is the 10th best place in manufacturing, contributing 5% of national GDP. We have 49,000 acres of land available with us and three industrial corridors including Vizag-Chennai Industrial Corridor, Chennai-Bengaluru Industrial Corridor, and Hyderabad Bengaluru Industrial Corridor. The port-led industrial corridors at Visakhapatnam, Kakinada and Krishnapatnam offer high potential to drive growth. The five operating airports and upcoming one in Nellore offer 170 metric tonnes combined capacity for handling materials. We have witnessed US $2.4 billion worth investments in the sector and are an ideal destination to tap US $11 billion worth India opportunity. At 1,130 MMTPA, we are home to maximum oil and gas reserves and at 640 square km, we have the largest PCPIR in India. There are 5,100 plus mega and MSMEs employing 1.2 lakh workforce. We have upcoming brownfield expansion of HPCL. We have readymade facilities at Nakkapalli and Rambilli clusters where industries are welcome to set up their units. Our government is working to build self-sufficiency in petrochemical intermediates and downstream industries."
"We have over 1 lakh acres of converted land available in Paradeep in Odisha. Indian Oil already has a 15 MMTPA refinery plant that is set to be upgraded to 25 MMTPA. There is also a 4 MMTPA dual feed naphtha cracker with feedstock available for downstream units including Paradeep Plastic Park. These are ready to move modular units which have facilities such as availability of industry grade water, affluent treatment, dormitories for executives. It is a major port with capacity of 120 million tonnes which will further get extended upto 300 million tonnes in next 3-4 years."
"We have another upcoming PCPIR at Dhamra where we have a port set up by Adani. We have a combined 3,000 acres of converted land available here. Gopalpora Industrial Corridor developed by Shapoorji Pallonji is another location that offers a lot of advantages. We may have similar infrastructure and policies to what other states are offering but we offer stable governance and financial stability besides being a power surplus state. We are rich in coal and minerals and are a metal based economy," says Hemant Sharma, Principal Secretary, Industries Department and Skill Development & Technical Education Department, Government of Odisha."
"PCPIR at Dahej is one of the 4 PCPIRs declared by the Ministry of Chemicals and Fertilizers, Government of India under PCPIR Policy 2007. It is located at Dahej, Bharuch near the Gulf of Khambhat. Gujarat PCPIR comprise 452.98 square km area and has advantage of strategic location of existing broad gauge rail, N.H. No. 8, state highways & other roads, sea and air connectivity and as it is also identified as Node no. 14 of the proposed Delhi Mumbai Industrial Corridor (DMIC) which has been conceptualized to range within 150 km of influence area on both sides of proposed Dedicated Freight Corridor (DFC). To facilitate the transport and export of chemical, petrochemical and other productions, it is provided with a port near the Gulf of Khambhat and Ro-ro ferry service. So far the investment of over Rs. 1 lakh crore has been made and more than Rs. 17,000 crore has been spent in the development of infrastructure. Dahej has 1.1 MMTPA feed cracker and availability of natural resources and feedstock in ample quantities," says Rohan Jain, Advisor, PCPIR, Government of Gujarat.
Meanwhile, the Rajasthan government has sought approval for its PCPIR in Barmer district. It is most likely to be the fifth PCPIR in India.
Kuldeep Singh, Additional General Manager, Rajasthan State Industrial Development & Investment Corporation Limited (RIICO) while making a strong pitch says, "Rajasthan government has proposed a PCPIR at Pachpadra in Barmer and we are currently awaiting approval for the same. The proposed PCPIR will fall within the influence region of Delhi Mumbai Industrial Corridor. The region will have road and rail access to major ports-Pipavav, Kanla, Mundra, Mumbai and JNPT. Strategically located between key markets in Northern and Western regions of India, we boast of the second largest railway network and third largest network of roads. There are 8 Economic Corridors passing through the state. We rank first in mineral production and produce one fourth crude oil production. Anchor tenant at the PCPIR will be HPCL which is partnering with the Rajasthan government, in the form of a JV called HRRL, to develop a green-field refinery cum petrochemical complex. It will have 9 MMTPA capacity with 2.4 MMTPA petrochemical products. We are aiming for Rs. 7,500 crore worth investments over and above the investments of Rs. 43,129 crore made into the refineries set up by HHRL."