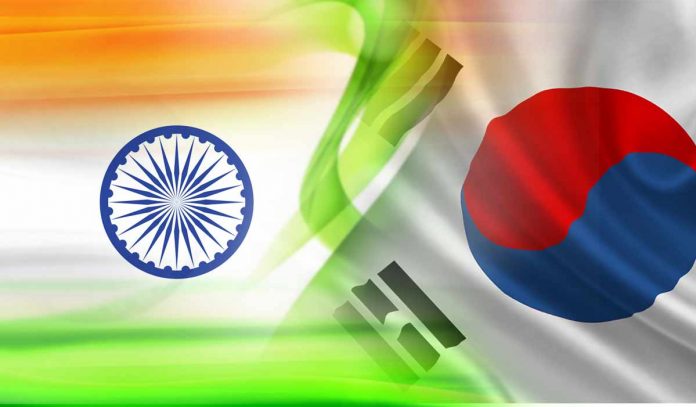 Indo-Korea bilateral trade grows 17% to record $27.8 billion in 2022
NEW DELHI : The bilateral trade between India and Korea grew by 17.3 per cent to USD 27.8 billion in 2022, according to Korea Trade-Investment Promotion Agency (KOTRA).
In 2021, the value of bilateral trade between the two countries stood at USD 23.7 billion.
Korea's exports to India increased by 21 per cent to USD 18.9 billion, while imports increased by 10.5 per cent to USD 8.9 billion.
Addressing India-Korea Future Industry Partnership Event 2023, Ambassador of the Republic of Korea to India Chang Jae-bok on Wednesday said, "India and Korea must focus on the critical issue of green energy and learn from each other's strengths. Green energy, hydrogen energy, and EVs are the future, and Korea's leadership in producing EVs since 2005 is an excellent example for India".
The two-day event is organised as part of a 50-year celebration of the India-Korea diplomatic relationship.
Through collaboration and cooperation, both countries can further emphasise the importance of adopting green energy and work towards achieving the sustainable development goals that both countries are committed to, Jae-bok said.
Executive Vice President for Economic Cooperation & Trade Affairs, KOTRA, Taeho Kim said both countries must prioritise cleaner energy and focus on SDGs, which are the need of the hour. Both countries will continue to work towards achieving these goals.
G20 Sherpa Amitabh Kant, who joined the event virtually, said as India takes on the G20 presidency said, we aim to bring together countries to promote sustainable development goals that will benefit not only India but the world.
"Our belief in 'One World, One Family' drives us to contribute towards SDGs and promote sustainable practices that will enable future generations to live a greener and cleaner life. Through our efforts, we can create a more sustainable world that is harmonious and equitable for all." Items which Korea imported from India include petroleum products, vegetable substances, ferroalloy and steel products, while it exported mainly semiconductors communication devices and displays, among others.