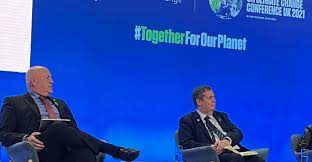 Industry, unions, UN taskforce to support seafarers in green transition

---
The shipping industry, unions and the UN are forming a task force to drive decarbonisation and support seafarers through the transition
The Just Transition Maritime Task Force announced at COP26 and its founding members include the International Chamber of Shipping (ICS), the International Transport Workers Federation (ITF), and the United Nations Global Compact.
The International Labour Organization (ILO) and the International Maritime Organization (IMO) will also join the taskforce as formal partners
Guy Platten, Secretary General ICS, said: "We are all about to face the single largest transition in modern times, and all of us will be affected."
"Many of our seafarers come from developing nations, who are witnessing first-hand the effects of climate change. We must ensure they are given the green skills they need to keep global trade moving, and that developing nations can have access to the technologies and infrastructure to be part of shipping's green transition."
Stephen Cotton, ITF General Secretary, said: "This task force will give international shipping the opportunity to lead the transformation of transport. We welcome the commitment from all partners, from industry and the UN agencies, to tackle this challenge collaboratively with workers and their unions.
"We know that seafarers' expertise will lead shipping's green transformation, and we look forward to working in the task force to push forward concrete,tangible solutions to decarbonise the sector in a worker-led just transition."
The first meeting of the taskforce is expected to place in December to start setting up practical steps.