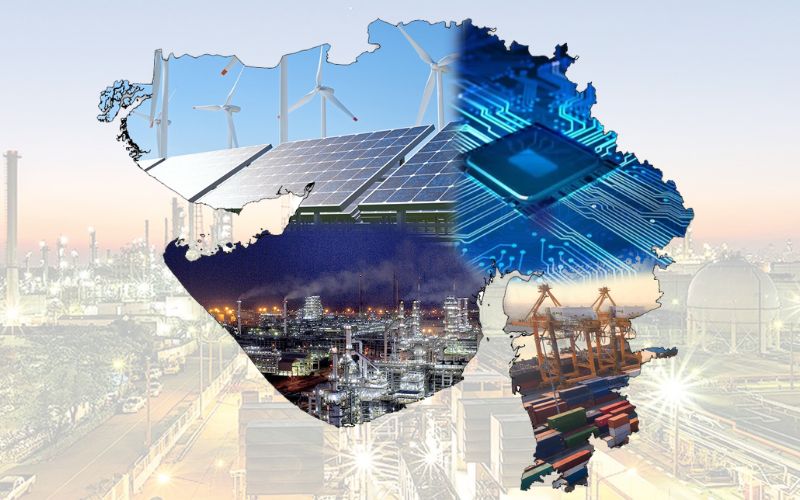 Investments in Kutch jump from Rs 2,500 Cr to over Rs 1,40,000 Cr post 2001 earthquake
GANDHIDHAM : As part of the Vibrant Gujarat Global Summit 2024 to be held in Gujarat in January next year the 'Vibrant Gujarat-Vibrant District' program is currently underway across the state. Under this, various programs are being organized in 33 districts of the state. A total of 139 MoUs worth Rs 3,370 crore were signed and more than 1500 people participated in the 'Vibrant Gujarat-Vibrant Kutch' Program that was organized in Kutch district on October 10, 2023.
The devastating earthquake of January 26, 2001, wreaked havoc in Kutch. At that time, the then Chief Minister Narendra Modi, launched active efforts for the upliftment of Kutch district and its people.
Today, a new Kutch has taken shape, which hosts several industrial units. Before the earthquake, investments in Kutch amounted to only Rs 2500 crores, against which more than Rs. 1,40,000 crores have been invested in this, with more investments pouring in year after year. The industries set up in Kutch district are currently employing more than 3.5 lakh workers.
Kutch district is abuzz with different types of industries
Located in the far western corner of Kutch district are the plants of UltraTech Cement and Sanghi Cement, one of the largest cement plants in the world. Kutch district is the second largest hub in the world in terms of capacity for the production of submerged arc welding pipes. Large-scale units like Welspun Corp Limited, Jindal Saw Limited, Ratnamani Metals, Tubes Limited, etc. are located in the district. Kutch is home to the world's second-largest textile plant, the Welspun India Limited plant, which mainly exports to Western countries. Bhuj in Kutch houses BKT's largest agricultural and industrial tire manufacturing unit.
Kandla SEZ and Mundra SEZ
Two important Special Economic Zones (SEZ), are operating in the Kutch district boosting the country's exports. Kandla Special Economic Zone (KASEZ) is the first in Asia and one of the major multi-product special economic zones in India. The physical exports of KASEZ have increased from Rs. 7 crore in the financial year 1996-97 to Rs. 9172 crore in the financial year 2021-22. Currently, there are 316 operational units in SEZ which constitutes about 10% of the country's operational SEZs. KASEZ alone generates direct employment for 28,000 people and exports about 30% of SEZ all over India.
Adani Ports and Special Economic Zone Limited at Mundra in Kutch is India's largest multi-product port-based SEZ, currently operating 67 units. With 150.24 Metric Tonnes (MT) of cargo handled in the financial year 2021-22, Mundra Port ranks first in handling cargo at any port in India. Kandla and Mundra ports, together handle about 30 percent of the country's total cargo today.
Kutch district produces 30% of the total salt produced in the country
Kutch produces approximately 200 lakh metric tonnes of salt annually, accounting for 30 percent of the total salt produced in the country for industrial as well as food consumption. There are more than 30 edible salt refineries in the district that produce free-flow iodized salt. In addition, the district has several bromine-producing units that produce an estimated 37,000 MT of bromine annually. Besides this, the district has oil refineries like Adani Wilmar, Kargil, Bunge, etc that process edible oil. The district has several steel plants producing sponge iron, TMT bars, ingots, and other steel products. In addition, there are also producers of bentonite and bleaching clay in the district.
Handicrafts sector of Kutch
Kutch district is known for its amazing artworks all over the country. About 20 arts of Kutch are identified arts, and at present 2 arts (Kutch shawl and Kutch embroidery) have been awarded GI tags. The Rann Utsav, held in Kutch for four months from November to February every year, has become the center of attraction for tourists from all over the world today. The tourism sector of Kutch has been boosted providing a huge market and economic benefits to the local handicraft artisans of Kutch. As a result, there has been a steady increase in the number of artisans registered in Kutch in the last few years. At present, there are more than 25,000 registered artisans in the district. Under the Central Government's 'One District One Product' (ODOP) Scheme, efforts are being made to formalize the sector and boost exports.