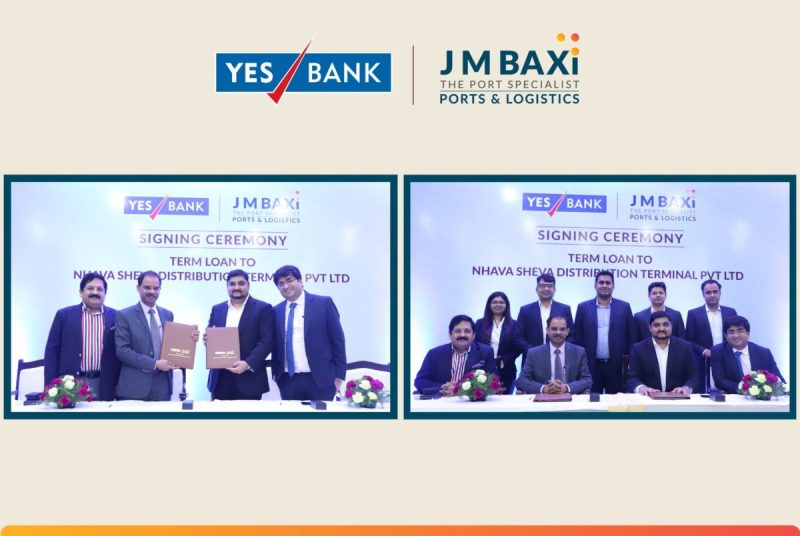 J M Baxi Ports & Logistics Ltd, has secured funding from Yes Bank for shallow water and coastal berths at J N Port  
MUMBAI : Nhava Sheva Distribution Terminal Pvt Ltd, a wholly owned unit of J M Baxi Ports & Logistics Ltd, has secured funding from Yes Bank to achieve financial closure for upgrading and operating the shallow water and coastal berths at the State-owned Jawaharlal Nehru Port located near Mumbai.
The term loan agreement for the project was signed recently, according to the company.
J M Baxi Ports & Logistics placed a price bid of Rs84.4 per ton of cargo handled at the berths, to emerge the highest bidder on a tender issued by J N Port Authority to privatise the berths through the public-privatepartnership (PPP) route on a 30-year concession period.
The project is a part of the National Monetisation Pipeline (NMP), wherein operational infrastructure assets including port terminals will be privatised through the public-private-partnership (PPP) route.
The shallow water and coastal berths will be upgraded in 3 years in a single phase.
J M Baxi Ports & Logistics plans to convert the berths into a coastal distribution hub at Nhava Sheva.
"The strategy is to build a hub in Nhava Sheva (where J N Port is located) which is unparalleled in the region," Dhruv Kotak, Managing Director, J M Baxi Ports & Logistics said in an earlier interview.
"We have named this special purpose company Nhava Sheva Distribution Terminal. It's a distribution terminal both for industrial companies as well as for containers that have to move in and out of Nhava Sheva.
It's another distribution route and method that we are creating, that's why we are calling it that," Dhruv Kotak said in the interview.
The 4 million metric tonnes per annum (MMTA) capacity shallow water berth (SWB) will have a length of 445 meters of which 125 metres has been developed as Ro-Ro terminal. It can accommodate vessels up to 30,000 tonnes.
SWB is a multi-cargo terminal capable of handling container, cement, general cargo, and liquid cargo vessels both foreign and coastal.
The port authority developed the coastal berth to provide a dedicated facility for coastal cargo to boost coastal shipping. The project was partly funded under the 'Sagarmala' program of the Ministry of Ports, Shipping, and Waterways.
The coastal berth will aid the smooth and faster coastal movement of cargo through a green channel and help increase the share of coastal shipping in the domestic cargo movement and as well as facilitate the exportimport (EXIM) community.
The coastal berth has the capacity to handle about 2.8 million metric tonnes of coastal cargo per annum (MMTA) like steel, cement, container, fertilizer, food grains and a few other clean cargoes. The berth has a backup area of 9 hectares for cargo storage and handling.
J M Baxi will install a mechanized cement handling system and connected conveyors and silos for the storage of cement which will enable faster turnaround of vessels. The coastal berth aims to provide better infrastructure for coastal shipping and decongest rail and road networks, ensuring cost-competitive and effective multi-modal transportation solutions