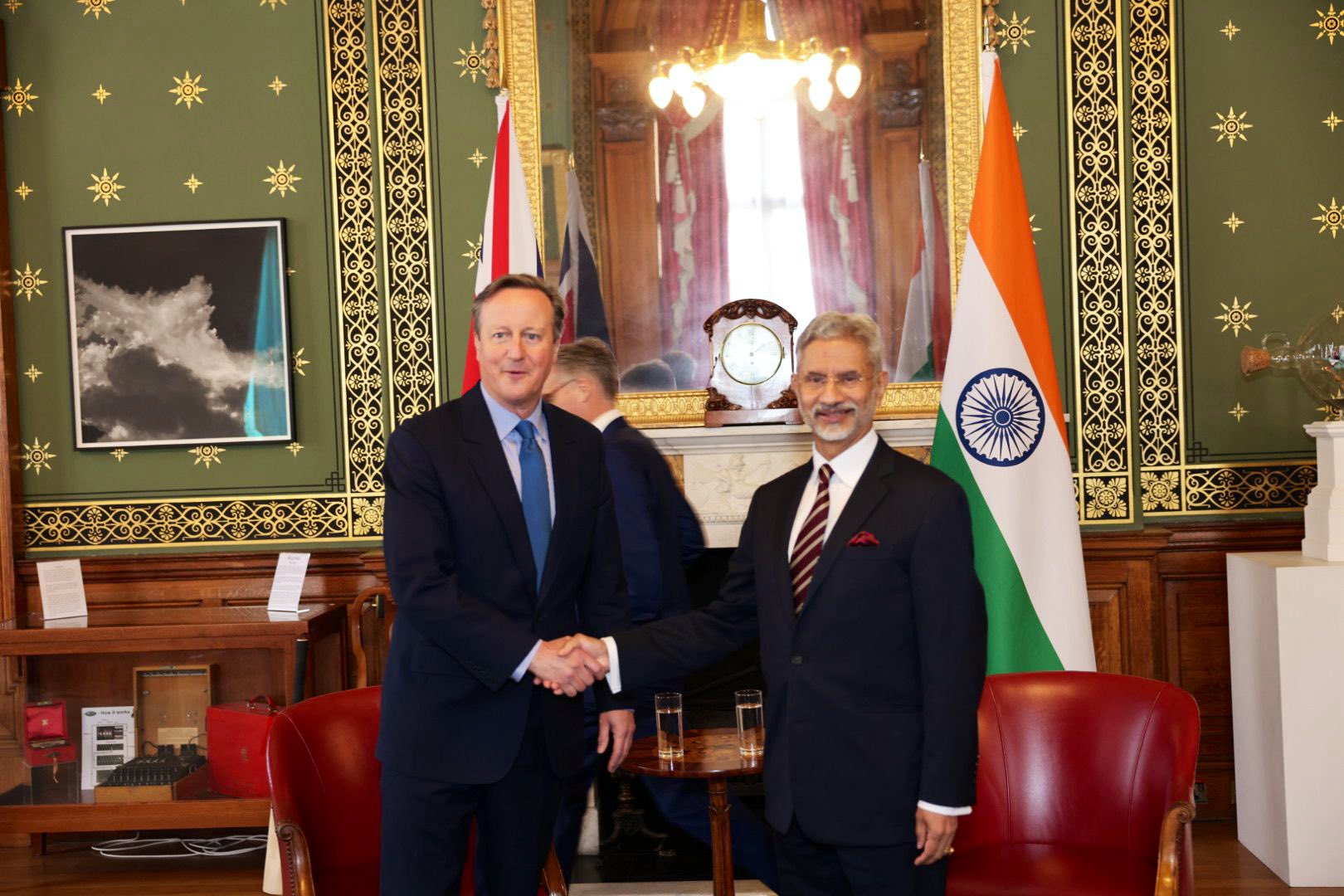 Jaishankar meets UK's new FS David Cameron, holds talks on trade pact, West Asia
NEW DELHI : : India and the UK discussed ways to take forward their negotiations on a free trade agreement (FTA) and global challenges such as the Israel-Hamas conflict and the Ukraine war during a meeting between External Affairs Minister Shri S Jaishankar and his British counterpart Mr. David Cameron.
This was Cameron's first meeting as foreign secretary after the former premier's surprise appointment to the post by Prime Minister Rishi Sunak in a cabinet reshuffle on Monday. The reshuffle was necessitated by Sunak's sacking of home secretary Suella Braverman.
"A pleasure to meet UK Foreign Secretary @David_Cameron this afternoon on his first day in office. Congratulated him on his appointment," Shri Jaishankar posted on X after the meeting. "Look forward to working with him closely," he added.
Shri Jaishankar said they held discussions on "realising the full potential of our strategic partnership" and exchanged views on the "situation in West Asia, the Ukraine conflict and the Indo-Pacific" but didn't give details.
A spokesperson for the UK foreign ministry said Cameron had welcomed Jaishankar for his first bilateral meeting as foreign secretary and discussed "progressing a free trade agreement and partnerships on defence, science and technology".
The two ministers also discussed "shared global challenges, including the concerning situation in Israel and Gaza and Russia's illegal war in Ukraine", the spokesperson said.
The meeting also covered the "importance of the Indo-Pacific region to global growth and prosperity" and the ministers "reflected on the strength of the UK-India relationship – including meeting the ambition of the UK-India 2030 Roadmap".
India and the UK have been engaged in protracted negotiations on an FTA since last year and people familiar with the matter said the intervention of the political leadership of both countries is needed to bridge differences on key issues such as rules of origin, tariffs on alcohol, automobiles and textiles, and market access.
Prior to the UK cabinet reshuffle, Jaishankar also met former foreign secretary James Cleverly at a reception hosted by the Indian high commissioner. He met him again on Monday evening in his new role as home secretary and discussed the "importance of mobility, skills and talent in the development of our bilateral cooperation", Jaishankar posted on X.
Shri Jaishankar and Cleverly also exchanged views on "addressing shared concerns on extremism, economic offences, trafficking and security".
In a separate interaction with UK defence secretary Grant Shapps on Monday, Jaishankar discussed enhancing defence and security cooperation. He said the Make in India programme offers new opportunities for British partners. They also discussed global security challenges.
Shri Jaishankar also met former UK premier Tony Blair and discussed bilateral ties, the West Asia situation and Africa. On November 12, Shri Jaishankar and his wife had called on Prime Minister Sunak on Diwali and conveyed the best wishes of his Indian counterpart Prime Minister Shri Narendra Modi.
"India and UK are actively engaged in reframing the relationship for contemporary times. Thank Mr and Mrs Sunak for their warm reception and gracious hospitality," Shri Jaishankar posted on X after that meeting.