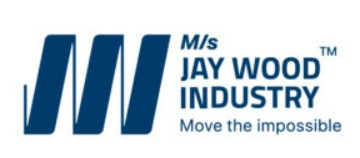 Jay Wood Industry sets a new sustainability standard as the first PEFC-certified wooden pallet manufacturer in India
MUMBAI : Jay Wood Industry, a market leader in the wooden pallet manufacturing sector, has become the first manufacturer in India to receive the Programme for the Endorsement of Forest Certification (PEFC). This has been awarded to its wooden pallet manufacturing facility located at Taloja, Raigad in Maharashtra. The certification is provided after following a rigorous inspection process and protocols by trained experts.
PEFC certificate provides license and assurance to M/s Jay Wood Industry to source wood only from forests that meet strict environmental sustainability standards. With these efforts, the company aims to become carbon neutral by 2035. The company has also secured the Forest Stewardship Council (FSC) certification which guarantees it sources wood from responsibly managed forests.
Commenting on M/s Jay Wood Industry's certifications, Mr. Jay Shah, Managing Director & CEO, said, "As a responsible manufacturer, we understand the significance of sustainability and are committed to securing wood responsibly. By becoming the first PEFC-certified wooden pallet manufacturer in India, we aim to steer the industry in a new direction towards sustainable practices and play our part in supporting the country's goal of achieving net-zero carbon emissions. We believe that this step will create a positive impact on the environment and inspire other companies to follow suit."
The PEFC is a non-profit organisation that operates on a global scale to promote sustainable forest management through certification. It collaborates with national forest certification systems to ensure that forests are managed in an environmentally, socially, and economically responsible manner. The FSC certification system was established in response to concerns about deforestation and the negative impact of poorly managed forests. To obtain either certification, companies must adhere to specific standards that encompass all aspects of forest management, including the conservation of biodiversity, protection of forests, and the preservation of the rights of indigenous people.
Apart from receiving PEFC and FSC certifications, M/s Jay Wood Industry is also the first Indian manufacturer to receive a certification from the European Pallet Association. The company is currently focused on increasing its annual production to 6 lakh wooden pallets and has a range of pallets customised for specialised requirements.
By receiving both certifications, M/s Jay Wood Industry has taken a significant step towards sustainable practices in the wooden pallet industry. As the first receiver of PEFC & FSC certifications, M/s Jay Wood Industry is leading the way towards a more responsible and sustainable use of natural resources.
About Jay Wood Industry
Founded in 1994, M/s Jay Wood Industry is a market leader in the wooden pallet manufacturing sector. As pioneers of the industry, the company's tagline is 'Move the Impossible', with a focus on providing customers with unparalleled quality and service. Today, they have a team of 90+ seasoned professionals, and are a leading manufacturer and supplier of wooden pallets and other packaging products in India, with sustainability at the helm of our operations. Their scale of production has grown by over 10X starting with 200 pallets a day to 2500 pallets a day. They have an annual capacity of producing 5 lakh+ pallets annually, serving 100+ customers across the country. Being a legacy in the sector, M/s Jay Wood Industry has multiple laurels and achievements to its name. They have been the frontrunners and the first ones to get an automatic nailing line as well as the CP license in India and are certified by the European Pallet Association e.V. They are the proud recipients of the "Brand Impact Award, 2020-21" conferred by the Indian Achievers' Forum.