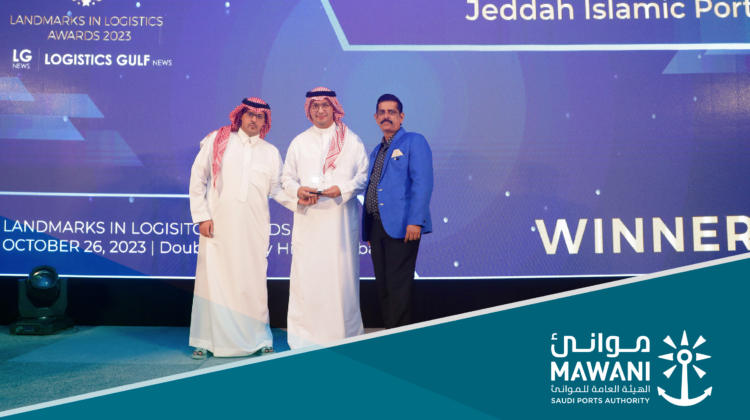 Jeddah Islamic Port wins the Advanced Port Infrastructure Award 2023
RIYADH : The Saudi Ports Authority "Mawani", represented by the Jeddah Islamic Port, has won the Advanced Port Infrastructure Award at the Landmarks in Logistics Awards 2023, held in the United Arab Emirates.
This accolade serves as a testament to the remarkable growth and development of the Port's infrastructure, which now boasts modern berths designed to accommodate the new generation of mega vessels. Additionally, it features state-of-the-art, automated equipment that adheres to environmental sustainability standards. The Port has undergone significant expansion projects and developmental concessions worth nearly 9 billion riyals to enhance its infrastructure. These investments have significantly improved its operational capacity and competitive edge.
The award also highlights the transformative changes that Jeddah Islamic Port has undergone, and the pioneering initiatives it has implemented to enhance its operational efficiency, such as the 'Smart Ports Initiative.' This initiative is designed to automate operational processes through the use of advanced 5G technologies
Furthermore, this achievement reinforces the Port's pivotal role in global trade facilitation, aligning with the national strategy for transport and logistics services, and further strengthening the Kingdom's position as a global logistics hub.
This latest recognition adds to Jeddah Islamic Port's growing list of accolades. The awards include the 'Port of the Year', which was received at the Logistics and Transport Awards in the UAE in September 2023, and the 'Best Port' award from the International Green Shipping Summit, held in the Netherlands in February 2023.
Jeddah Islamic Port is strategically positioned along the East-West trade route, serving as a significant link between Europe, Asia, and Africa. This pivotal location, combined with its state-of-the-art infrastructure, has bolstered its status in the international maritime trade.
The 'Landmarks in Logistics' awards are organized by 'Logistics Gulf News', a media platform specializing in the logistics services sector in the Arab Gulf region, to celebrate the accomplishments of leading institutions in this rapidly evolving field.