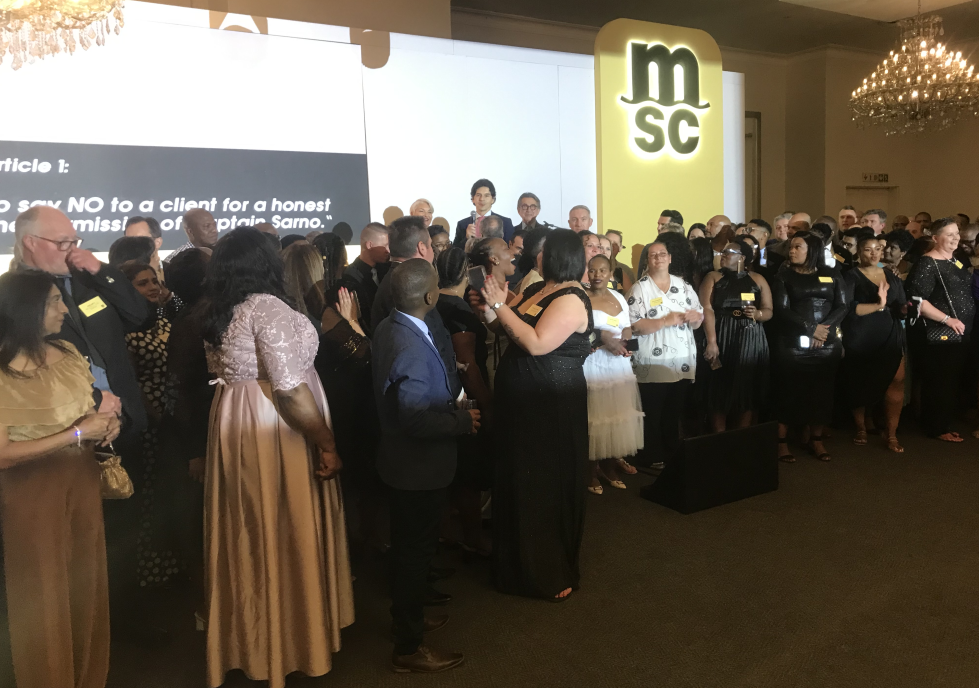 MSC celebrates South African milestone
GENEVA : In a heartfelt ceremony for clients and colleagues hosted by Mediterranean Shipping Company, the first social gathering of its kind since the Covid-19 outbreak almost four years ago, the world's leading line by container capacity paid tribute to its 45-year history as an agency in South Africa.
While the carrier itself was formed in 1970 by Gianluigi Aponte, Medite was the initial agency representing MSC before it opened its own office in South Africa in 1978.
Addressing a packed Polo Room at the Inanda Club on Thursday evening in Sandton, MSC Regional Director for Johannesburg, Alex Ferrari, reflected on the company's growth from a small shipping concern to a dominant global brand by paying tribute to all who remained loyal to MSC, especially during trying times of the coronavirus pandemic. "We are incredibly proud that this year is a very special celebration," he said.
"As a reigning shipping company, MSC has reached a milestone in South Africa. Forty-five years of dedicated and unwavering commitment and service to the South African market, coming from humble beginnings to where it is today. "We were the first true ships agency in South Africa.
"Over four decades MSC has been a beacon of excellence in the maritime industry, certainly as a pillar of reliability and innovation."
Thanking everyone involved with MSC's story through the years, Ferrari singled out "two individuals that have been guiding stars on this journey" – MSC's Captain Salvatore Sarno and his wife, Sandra, respectively the line's chairman for South Africa and director of depots.
Expressing his gratitude to those who stayed on course despite the "four-year hiatus" since the last MSC cocktail gathering at Inanda, Ferrari took a leaf out of the public relations campaign for the Springboks at the World Cup in France, saying: "We are stronger together."
His sentiments rang true as Luciano Pavarotti's rendition of Nessun dorma caused some people to become visibly emotional, before Rosaria Sarno, son of Salvatore and Sandra and current Managing Director of MSC in SA, said it was "an honour to be here tonight".
Flanked by his parents, he said a lot had happened since MSC had started calling at South African ports.
Looking to the future, Rosario said there was a lot in store for further growth, such as the opening of a new MSC cold storage facility in February.