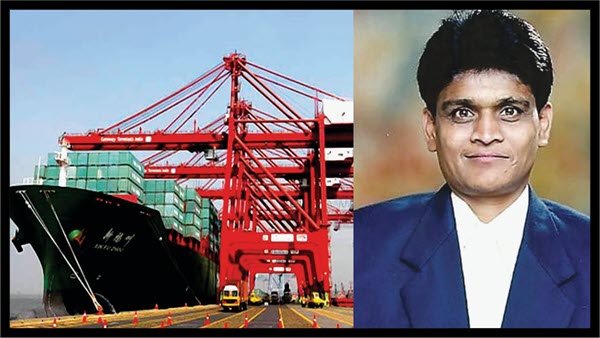 JNPT catalyst for unprecedented progress of Navi Mumbai – Bhupendra Shah
MUMBAI : CMD Bhumiraj Group details the infrastructural development, mega projects and crores of investments resulting in tremendous employment opportunity in the region
By A Correspondent, Navi Mumbai Jawaharlal Nehru Port Trust (JNPT) holds the key to the employment revolution in the Navi Mumbai region. It is a catalyst for unprecedented growth, believes Bhupendra Shah, the chairman and managing director of Bhumiraj Group.
Shah, the Chairman Trustee Board of Builders Association of Navi Mumbai (BANM) declares that the city is on the threshold of a new turning point in terms of development and that JNPT is a major factor.
Explains Shah, "In 1980 the then prime minister Indira Gandhi gave instructions to set up JNPT. Rajiv Gandhi as the PM visited Nhava Sheva several times after construction began in 1986. He attended the inauguration of the port in May 1989 along with then state chief minister Sharad Pawar."
He added, "In 2015 Prime Minister Narendra Modi laid the foundation stone for the 4th container terminal, in 2017 shipping minister Nitin Gadkari laid foundation for Rs 1,117 cr projects at the port and in 2018 Prime Minister Modi inaugurated the 4th container terminal. The prime ministers are repeatedly coming here sending a strong message on JNPT significance."
According to Shah, "11 decades old Sir Mohamed Yusuf Seamen Welfare Foundation's Training Ship Rahaman is a prime example of its importance. The Foundation had received acquisition notice for its entire campus by government of Maharashtra in 1973. However, Indira Gandhi ordered in 1980 that no further acquisition will be done in Nhava and that the institution will be allowed to conduct its activities."
Speaking on the plans ahead, the Bhumiraj Group CMD informed, "JNPT, for its SEZ, has prepared plans to attract Rs 4,000 crore in investments. The draft proposal envisages 72,600 direct job opportunities. The SEZ will generate employment for 1.50 lakh people with a multiplier effect. There will be housing schemes around the SEZ to cater to the demand."
He added, "Despite the world wide covid pandemic, in February this year JNPT chairman Sanjay Sethi signed more than 30 MOUs worth Rs 27,000 crore with potential investors. These were for port projects, technology transfer and development of plots in JNPT SEZ."
DP World, JM Baxi & Co, Ganesh Benzo, BPCL, NITIE, SSG Pharma Pvt. Ltd, Sooraj Agro, JWR logistic, Cineline India Ltd. are some of the companies that have signed the MoUs to make investment towards manufacturing, IT services, warehousing/cold storage, FTWZ, pharma, confectionery manufacturing, engineering services, food processing among others.
Speaking of the potential ahead, the Bhumiraj CMD said, "A whopping 18 jetties are coming up in the region in a few years. Big names like Nikhil Gandhi, Reliance and Adani are involved. Imagine the employment they will generate"
Speaking on the Western Dedicated Freight Corridor, he says "The 1483 km broad gauge freight corridor under construction by Indian Railways will connect Dadri near Delhi with JNPT in Navi Mumbai. It will ensure that the containers move from the port to the hinterland and vice versa in a smooth fashion."
Informed Shah, "Earlier this year, JNPT performed a trial run for the operation of freight trains loaded with "dwarf containers", which is a first at any Indian port."
He explained, "Through this revolutionary concept cargo movement for export and import will be through double-stacked dwarf containers. This has cost advantages to the parties and the rail traffic at JN Port will increase."
Speaking of yet another project, Bhupendra Shah said, "The 126 km long Virar-Alibaug Multi Modal Corridor connecting to Chirner JNPT will be a crucial step towards development, strengthening and creating job opportunities in areas of Panvel, Taloja and Uran. The Corridor will also be useful for the development of Navi Mumbai International Airport, JNPT Port, MTHL and Dedicated Freight Corridor. It will carry all the traffic from JNPT towards Navi Mumbai and Thane outside the city and reduce traffic congestion within the city."
According to Shah, "Regional Park Zone that is planned over 1,850 hectares, will be used for housing, open spaces and entertainment facilities."
Concluded Bhupendra Shah, "When you speak of JNPT, it is not just the biggest port in the country handling cargo. It is an economy booster that brings with it various industries, services and infrastructure and so naturally upgradation of quality of life for the people who will come here. Navi Mumbai is definitely blessed to have such a fantastic future."
Source : Deccan Herald