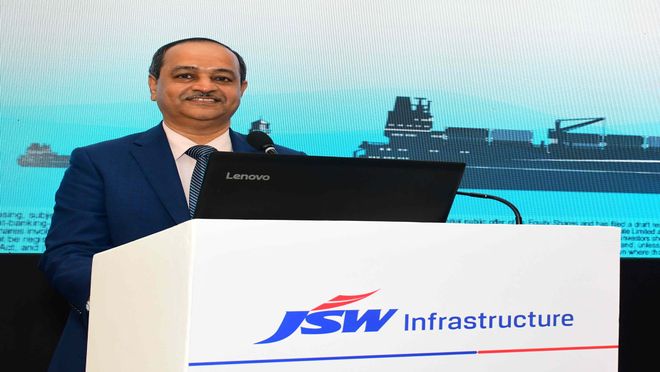 JSW Infra expects to double port capacity to over 300 MTPA in 7-10 years : CEO Arun Maheshwari
MUMBAI : JSW Infrastructure Ltd., the second largest commercial port operator from the Indian private sector, is expected to double its capacity in 7 to 10 years, its Deputy MD and CEO Arun Maheshwari said in an interview.
Currently the company, whose ₹2,800 crore Initial Public Offering (IPO) opened on Monday, has an installed capacity of 158.43 million tonnes per annum including 72 million tonnes per annum at various terminals it operates at major ports.
He said going ahead the company's plan would be to bid for more terminals at major ports and to build greenfield ports.
"The government is now inviting private players to modernise terminals. There is huge scope for us to participate in it. But we need a solid balance sheet to grow the business from here. The ongoing IPO will provide that strength to our balance sheet," he said.
He said the company has been growing at a CAGR of 22% for the last 22 years and would continue the growth momentum. He said two new green field ports are likely to come up in Odisha and Karnataka in the coming years which will add to the capacity.
Besides this, the company would go for acquisitions, he said.
It operates nine State port concessions strategically located on the west and east coasts of India. The existing ports and terminals of the company are capable of handling a wide range of cargo and vessels up to Cape size. It is also strengthening its market position by focusing on value-added offerings with end-to-end logistic support and a diversified cargo profile.
The new capacity building is aimed at diversifying the company's cargo portfolio beyond Bulk cargo such as gas, liquid and container with a strong focus on growing its third-party customer base.