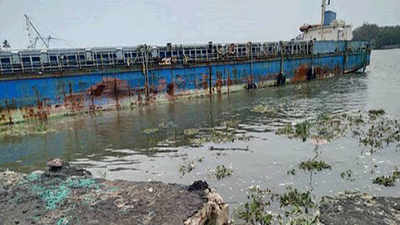 Kerala's pioneering coastal shipping project ends
KOCHI : The pioneering coastal shipping project of Kerala, originally presented at the Emerging Kerala event in 2021, comes to a sad end with the Great Sea Shipping company slides into liquidation and their general cargo ship 'Great Sea Vembanad' is moored at Munambam harbour, ready to be auctioned. During the last three months, the 'Great Sea Vembanad' was involved in two berthing incidents during which the ropes broke and one end of the ship started drifting away from the harbour. Once fully let loose, there is chance of boats harboured at Munambam being destroyed in the event.
"Following a case filed by the State Bank of India, the debt recovery tribunal has directed the bank to auction the ship," said advocate commissioner Abu Mathew, who is entrusted with the job of selling the ship.
"With the pandemic on, the sale wouldn't happen easily as prospective buyers couldn't travel down to inspect the ship. Hence, we are yet to advertise it," he said.
As Great Sea Shipping is in liquidation, the firm was unable to pay the salary of the sailors and once the sale happens, the first claim to be settled will be theirs, Mathew added.
An assistant sub-inspector with the Munambam police station said that the ship was kept in a precarious situation.
"Ten days ago, the rope that secured the rear of the vessel [stern] came undone from the cement block of the berth where it was attached. As we informed, officials concerned came and secured the ship safely," he said.
Managing director and CEO of Great Sea Shipping N J Thomas said that the firm set up by six Middle East returnees using their own funds, loans from friends and bank had to face troubles right from the beginning. Great Sea Vembanad's maiden voyage from Kochi to Kollam carrying nine 40ft containers gave them a lesson on why it was wise not to invest in Kerala.
"When the ship reached Kollam, there was no infrastructure as ought to be in a port. The small crane provided was small and couldn't handle the containers. Camping at Kollam and using two cranes, we managed to unload these containers, but taking the first two containers by road, it took altogether five days," Thomas said.
Later, at a meeting of stakeholders of Kollam port convened by the minister, Thomas had said that "We came with a lot of enthusiasm, but we regret the day we took the decision to invest our hard-earned retirement money and start the ship". Thomas said coastal shipping would take off in Kerala only if the government and officials take drastic steps to make things happen.