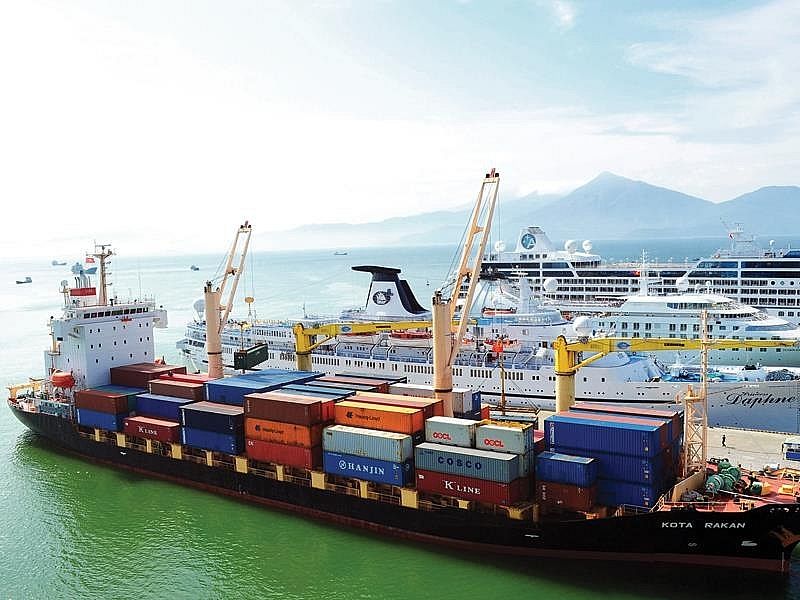 KPI OceanConnect, Pacific International Lines and Bunker One successfully complete the first digital marine fuels deal outside Singapore waters on SGTraDex
LONDON : Leading global marine energy solutions provider and trader KPI OceanConnect, leading container shipping line Pacific International Lines (PIL) and physical marine fuel supplier Bunker One announced today the successful completion of their first live electronic marine fuel inventory statement for an overseas delivery through the Singapore Trade Data Exchange (SGTraDex).
Singapore-flagged container vessel Kota Rakan, owned by PIL, was bunkered with Very Low Sulphur Fuel Oil (VLSFO) by Bunker One at the port of Lome in Togo, Africa, on February 7, 2023. The bunker delivery note (BDN), bunkering sale invoice and fuel delivery were submitted and exchanged on the same day via SGTraDex.
As part of its strategy to enhance transparency in the marine fuels industry, KPI OceanConnect has adopted SGTraDex to improve transparency in the marine fuels industry. Apart from using it to streamline invoicing and reduce manual processing time, the infrastructure also serves as a secured channel for the transfer of various trade documents, including but not limited to bills of lading, certificates of quality, and letters of credit.
Launched in June 2022 as a public-private partnership, SGTraDex is a common data infrastructure that facilitates the sharing of data between supply chain ecosystem partners, streamlining information flows through a common data highway where data can be shared in a trusted, secure, and inclusive manner.
The successful completion of this live electronic transaction demonstrates KPI OceanConnect and PIL's commitment to implementing innovation and digitalisation in their businesses, while also reinforcing the value of the common data infrastructure.
CEO Anders Grønborg at KPI OceanConnect, commented: "We are very pleased to complete this collaborative, digital marine fuel transaction together with PIL, Bunker One and SGTraDex. This platform enables us to share trusted and secure data along the supply chain. Our commitment to innovation and digital solutions – such as AuctionConnect, which has been running for 21 years – in our marine energy services will continue, further enhancing transparency in the industry and creating a safer trading environment for the entire value chain."
Goh Chung Hun, Head of Fleet at PIL said: "We are happy to contribute to this key achievement towards digitalisation in shipping. This is all the more significant for PIL as we are one of the founders of SGTraDex. Our participation in SGTraDex stems from our belief in the importance of leveraging digitalisation to build an efficient, reliable and secure supply chain. We also strongly endorse the drive for transparency in marine fuels transactions, to enable shipping lines like PIL to have safe and sustainable vessel operations."
Antoine Cadoux, CEO SGTraDex Services said: "We are excited to have played a pivotal role in facilitating this overseas bunker delivery between KPI OceanConnect, Pacific International Lines and Bunker One. By leveraging on our common data infrastructure, parties involved in the transaction were able to streamline their document exchange processes with increased transparency and enhanced efficiency. This achievement underpins the critical role that SGTraDex can play in driving digitalisation across the maritime industry, within and outside of Singapore."
CEO Peter Zachariassen at Bunker One said: "We are incredibly proud to be a part of this first-ever supply via the SGTradex platform outside Singapore. This opportunity fits perfectly well into our digitalisation strategy and efforts to create more transparency in the supply chain. We are constantly optimizing our processes, staying agile and pursuing our goal of being the preferred business partner for our customers."
ENDS
About KPI OceanConnect
KPI OceanConnect is one of the world's largest and most experienced independent marine energy service and solutions providers. For more than 50 years, KPI OceanConnect has been fuelling global trade through its partnership approach, innovative solutions, and ability to expertly guide its clients through new and evolving challenges.
By combining the expertise of its global workforce with market-leading technology, innovation, and financial strength, KPI OceanConnect creates long-term value for its partners. KPI OceanConnect is a trusted leader in the transition to low-carbon energy and is committed to providing solutions to enhance the shipping industry's contribution to a cleaner and healthier planet.
KPI OceanConnect's teams of experienced professionals deliver trusted expert counsel from offices in Athens, Doha, Hamburg, Hong Kong, Houston, Istanbul, Jakarta, London, Miami, Middelfart, New York, Rotterdam, Seattle, Seoul, Singapore and Tokyo. Find out more by visiting: https://kpioceanconnect.com/ .
About Pacific International Lines
Incorporated in 1967, Pacific International Lines (PIL) is ranked 12th among the world's top container shipping lines and is also the largest home-grown carrier in Southeast Asia. From a modest ship-owner in Singapore, PIL has developed into a global carrier with a focus on China, Asia, Africa, Middle East, Latin America and Oceania. Together with its sister companies Mariana Express Lines (MELL) and Malaysia Shipping Corporation, PIL serves customers at over 500 locations in more than 90 countries worldwide with a fleet of around 100 container and multi-purpose vessels. Apart from the core liner shipping business, PIL also has several other business units such as container manufacturing, depot and logistics services.
About SGTraDex
Launched on 1 June 2022, the Singapore Trade Data Exchange (SGTraDex) is a digital utility that facilitates the sharing of data between supply chain ecosystem partners, streamlining information flows through a common data highway where data can be shared in a trusted, secure and inclusive manner.
SGTraDex uses proprietary technology anchored through a public-private partnership model to resolve pain points in supply chain ecosystems including a heavy reliance on a paper-based system which lacks efficiency, transparency and sustainability. The move to digitise information will increase productivity and build supply chain resilience. New efficiencies and opportunities will be unlocked when ecosystem partners can collaborate to achieve a shared visibility of the end-to-end supply chain.
Find out more by visiting: www.sgtradex.com.
About Bunker One
Bunker One is one of the world's leading physical suppliers of all grades of marine related products. Stemming from one of the oldest shipping companies in the world, Bunker One was founded in Denmark in 2018 and has rapidly developed into a respected and reliable physical bunker supplier. Thanks to our 200 bunkering experts and global fuel supply network, we supply the maritime shipping routes in any corner of the world covering five regions: North America, South America, Northern Europe, Africa, MED and Asia. Bunker One combines physical supply capabilities with an international reselling platform to guarantee optimum supply solutions.