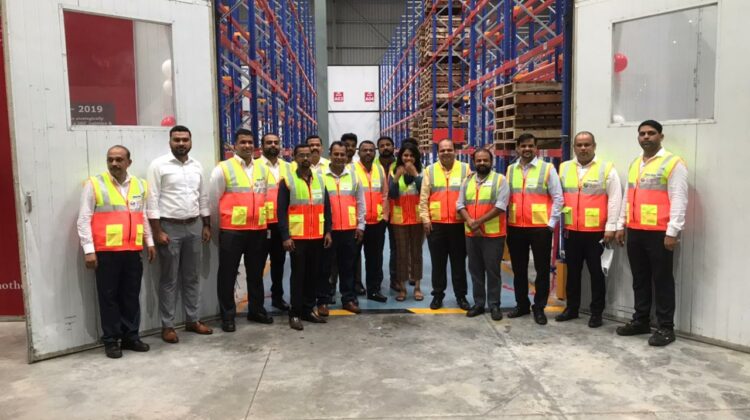 Liladhar Pasoo Group inaugurates a 5000-tonne storage capacity warehouse in Mumbai

---
MUMBAI : India's most experienced integrated logistics and supply chain solutions provider Liladhar Pasoo Group launched its 5,000 MT warehouse at Bhiwandi in Maharashtra. This is a significant move considering that demand for warehouses is slated to rise due to various trade friendly policies and India being a preferred country for manufacturing.
Liladhar Pasoo with its strong 100 plus years presence is known for its operational and compliance-based services being offered to over 18 different industries. This facility is expected to give a boost and generate value-based efficiency for the customers.
The new warehouse can store 100 percent dry cargo, majorly speciality pharmaceutical and food-grade chemicals that are used in the preparation and preservation of many food & pharmaceutical products. LP Group offers these facilities to multiple clients and the facility will be close to 100,000 sq ft of area in size. This will be added to the existing 1.2 mn sq ft of space the company has across the country with the capacity of 60,000 MT. Bhiwandi location was chosen for its proximity to Mumbai city, Nhava Sheva Port, cost-effectiveness in operations, and ease of secondary transportation across India.
While the pandemic led to a break in supply chains in India, it has upped the demand for commercial warehousing needs in large cities to contain any breakdown in the supply of essential commodities to consumers. This has also led to an increased demand for grade A warehouses, which offer more sq. ft space and better height for vertical storage, better safety mechanisms against fires, mechanized loading and unloading operations. LP Group with its foresight has already ventured into expansion considering the current scenario and future customer demands.
Mr. Varun Gada, National Head for contract logistics at Liladhar Pasoo (LP) Group is positive about the future of warehousing in India and shares his views, "We will be further expanding our warehouse facilities in Bengaluru and Ahmedabad in the current financial year which will be largely geared towards servicing the speciality chemical industry who have warehousing needs. While we have always chosen to operate on an asset-light model and do not own any of the properties, our investment in terms of movable property would be anywhere between ₹10 to ₹40 crores per property."
With a global presence in over 170 countries, LP Group has executed many prestigious projects by providing innovative solutions to clients, thereby winning awards, and setting industry benchmarks. From an established Customs House Agent, the company offers a range of services including freight forwarding, port handling,chartering, transportation, warehousing and distribution and 3PL- value-added services Their clients include reputed brands from across the globe from various industrial sectors like chemicals, pharma, paints, cosmetics, engineering, FMCG, etc.
This is what sets Liladhar Pasoo apart in competition making it " India's Most Experienced Integrated Logistics & Supply Chain Solutions Provider ".

Source : Liladhar Pasoo
---