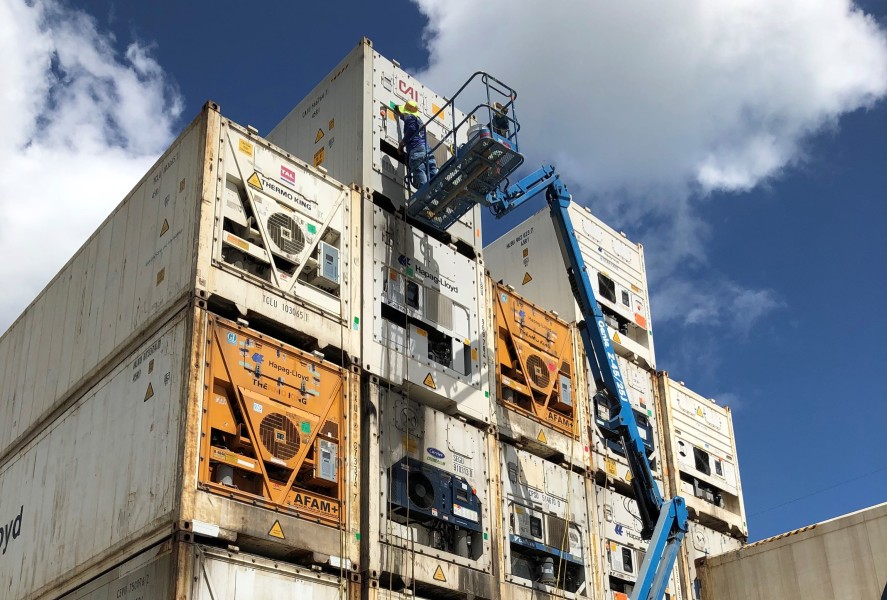 Lion's share done: Hapag-Lloyd's 100,000 reefer containers are smart now
HAMBURG : Hapag-Lloyd reached the milestone of equipping 100,000 of its reefers with a monitoring device, a target that was set with the start of the rollout in 2020. With this, Hapag-Lloyd has made a very large part of its reefer fleet "smart".
Andrea Schöning, Senior Director Container Steering said "I am really proud of how our colleagues on site have been doing their job. In particular over the recent months they have pushed our depots installing the monitoring devices. While we continue to install in the field, finding the remaining ones in the fleet is getting trickier and trickier. We target to exceed the 90% fleet installation mark during the upcoming construction phase of new reefer containers."
Currently, new-built containers are being equipped with tracking devices directly upon completion in the factory, and the containers in our fleet are equipped during the regular Pre-Trip- Inspection (PTI) process by depots. Biggest installation locations are Hapag-Lloyds own reefer depot in Rotterdam with more than 12.000 installations since start of the rollout, followed by depots Belgian Container Maintenance in Antwerp (4.700 installations) and Tercon Terminal de Contenedores in Guayaquil, Ecuador (4.300 installations).
Today, we are already using the data from our 100,000 reefers to monitor our fleet for any incidents that may damage the cargo such as wrong temperature set points or technical alarms. Through this, our local teams handle up to 2.000 incidents every single week to reduce cargo claims and improve transport quality.
In summer 2022 Hapag-Lloyd also launched "Smart Pre-Trip Inspections" for reefers. With this we are replacing traditional physical machinery checks of the reefer in the depot with data driven validation of the reefer's condition. This will enable us to reduce costs and make reefers available for customers faster as they do not have to wait for a PTI in the depot.
The Hapag-Lloyd LIVE commercial product usage is quickly scaling up. In February 2023 alone our customers purchased the service for more than 6.000 reefer containers, and we forecast for 2023 full year to be able to sell it on more than 50.000 units. It has proven to be a unique selling point for our reefer customers, keeping us ahead of competitors.
By August 2023, the company plans to have 90% of its reefer containers equipped with monitoring systems. By the end of the year, all Hapag-Lloyd reefer boxes will be smart.
On track to make the whole Hapag-Lloyd container fleet smart by end of 2023
In addition to its reefer containers, Hapag-Lloyd has set itself the goal of making all of its containers smart, including its 1.6 million dry containers. The installation of tracking devices on dry containers began end of last summer and is currently underway in depots around the world. Hapag-Lloyd expects to launch a first customer product for standard boxes this year and to have majority of its containers worldwide equipped with tracking devices by the end of 2023.
Olaf Habert, Director Container Applications said "By having equipped the lion's share of our reefer fleet and starting mass installations on the dry fleet, we have made a large step towards creating the world's smartest container fleet. Now it's time to also bring our use cases to the next level."