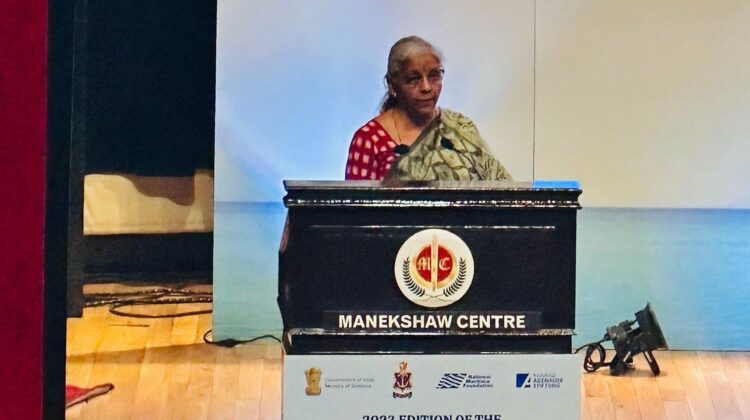 Maritime India on the move with govt backing: FM
NEW DELHI : Finance Minister Smt Nirmala Sitharaman on Wednesday laid out the government's plans to "position India as a hub in new and diversified supply and value chains across the Indo-Pacific" with the Centre's comprehensive fiscal and policy backing.
Giving an insight into the all-round government support during a special address at the Indo-Pacific Regional Dialogue (IPRD-2023), the Finance Minister said that as many as 31 projects have been identified at nine major ports for the national monetisation pipeline launched in 2022 with a total estimated capex of Rs 14,483 crore for 2022-25.
The apex international conference, themed 'Geopolitical Impacts upon Indo-Pacific Maritime Trade and Connectivity', was organised by Indian Navy's knowledge partner National Maritime Foundation.
Supply chain hub
"We are entirely conscious of the fact that, over the foreseeable future, India's comprehensive national power is going to remain inextricably linked to the ocean. We are seized of the pressing need to grow the maritime sector as a whole and our government is determined to provide the requisite support by way of fiscal policy and financial outlay. We seek to position India as a hub in new and diversified supply chains and value chains across the Indo-Pacific and, indeed, across the world," the Finance Minister told the gathering that included the top brass of Indian Navy and other navies, diplomats, and experts on the Indo-Pacific region.
Sitharaman, who was previously Defence Minister before taking up the finance ministry portfolio, highlighted several other governmental maritime initiatives. She said that insurance in the shipping area has also become a policy focus for the government, having learned lessons from the Covid pandemic. "On the one hand, a marine cargo pool has now been created with the full support of the IRDAI, that is the Insurance Regulatory And Development Authority of India, and domestic insurance companies to support maritime trade," Sitharaman said.
"On the other, India is improving its shipping arbitration and, in order to reduce India's vulnerability to international sanctions and pressures and to provide greater strategic flexibility in shipping operations, we are setting up a full-fledged Indian-owned and India-based protection and indemnity PLI entity that will additionally provide protection to coastal and Indian shipping," she said.
'Sea of opportunities'
The Minister was of the view that India's 'blue economy', which accounts for roughly 4 per cent of the GDP, represents a sea of opportunities. India has nine states and four Union Territories situated on the coast, 12 major and 200-plus non-major ports along its 7,500-km coastline, along with a vast network of navigable waterways for international as well as domestic trade, she pointed out. The industry in India provides over 2 lakh direct and indirect jobs, which is only expected to grow. According to the UNCTAD, India was also the second largest exporter of ocean-based goods and services among developing countries in 2020, the Minister stated in a reference to the country's growing maritime trade capabilities.
Taking a veiled dig at China, she said India believes the country's economic growth should not be at the expense of others. "We truly believe that it is not possible for the Indian economy to ride on some crest while the economies of other countries of our maritime neighbourhood are wallowing in some trough. If we are to grow in an environment of peace, security, and stability, the growth and security of others in our region must also grow," the FM said, echoing the country's maritime policy encapsulated in the acronym 'SAGAR', or Security and Growth for All in the Region.
According to the Minister, the government's effort is being captured in international indices as well. "Our global ranking has risen from 44th place in 2014 to 22nd rank in 2023. Similarly, as per World Bank's 'Logistics Performance Index Report 2023', the turnaround time of Indian ports is now just 0.9 days, which is lower than ports in established maritime centres such as Singapore, UAE, Germany, USA, Australia, Russia and South Africa," the Minister said.