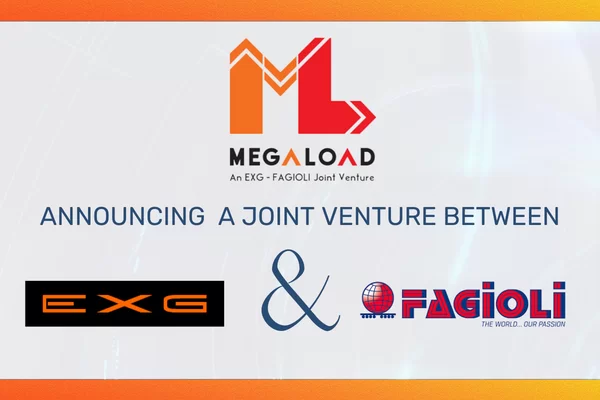 Megaload is born, a joint venture between Express Global Logistics Pvt Ltd (EXG) and Fagioli SpA
MUMBAI : Express Global Logistics Pvt. Ltd. (EXG), a 77-year-old asset based integrated project logistics company and Fagioli SpA, among the sector world leaders in engineering and large handling, with more than 50 years' expertise in the heavy lift and transport sector and one of Europe's largest heavy lifting specialists, are coming together to form Megaload Pvt. Ltd., an incorporated 51:49 joint venture (JV) company.
The new company based in Mumbai will carry out handling and lifting projects serving the Indian markets of the Construction, Petrochemical, and heavy industrial sectors.
Fagioli SpA has been present in India for close to two decades, which organization is now being merged into the new joint venture. The establishment of Megaload represents a strengthening of this presence and is an important new step in Fagioli's SpA growth strategy in the Asia Pacific area.
This association of two organizations that are each more than half a century old will ensure that the hungry Indian market, with its huge infrastructural plans for the next decade and more is much better served with an enhanced level of lift and shift capabilities. The two companies are a great match, with their combined high-quality resources and experience.
The JV will cater to the heavy lifting and movement industry in the Indian sub-continent with a large inventory of the latest self-propelled modular trailers (SPMTs), alternative lifting, strand jacks and gantry systems. It will serve to meet the growing demand across the sub-continent for the latest assets and engineering required to serve the large-scale projects that are on the anvil across the region. India is the highest growing economy in the world presently and poised to become a USD 5 trillion economy by 2026, indicating sizeable growth prospects for Megaload across served markets.
Projects worth US$ 58 billion in the Oil and Gas sector alone have been scheduled in the next few years. Overall projects worth USD 248 Billion are announced indicating sizeable growth prospects for Megaload across served markets. The market size of the logistics industry is expected to grow from 200 billion to 380 billion by 2025.
Megaload has the necessary resources to satisfy not only the technical scope of works of all these projects but can deliver comprehensive packages that meet appropriate Occupational Health Safety & Environmental standards as well as the required human resources conditions. The partnership has a formidable lifting and heavy haulage capability with engineering resources to design and apply economical and safe lifting and moving.
The Express Group was founded in 1946. Since its inception, Express Global Logistics Pvt. Ltd. (EXG) has become a leading and trusted full-service logistics provider. For more than 75 years, EXG has been committed to provide transparent and seamless supply chain solutions for its clients with its vision to become a one-stop-shop logistics provider, through a combination of deep industry experience, world-class customer service and modern technology capabilities.
Mr. Nailesh Gandhi, Managing Director, EXG enthusiastically termed it "a partnership of growth" and stated that "EXG has a pan-India presence backed by a large fleet of axles, cranes, and other equipment. The addition of the SPMTs and Alternate lifting systems in Megaload, is part of EXG's vision and plans for growth to become a fully integrated project logistics service provider backed with the latest equipment and technology".
The Fagioli Group was incorporated in 1955 and now has 21 international offices. The business turns over EUR 250m p.a. and employs over 700 staff. Fagioli SpA also has a maritime division comprising barges and shipping. The Group has global experience in the oil and gas industry and has provided the heavy lift component for many oil and gas processing plants, power station installations and major heavy lifts in Europe, Middle East, Far East, and the Americas.
Mr Fabio Belli, CEO of the Fagioli Group, eagerly greets the birth of Megaload, remarking that "Fagioli SpA has been historically present in India for almost twenty years with its own staff and resources, which will now become part of Megaload. The presence of Fagioli SpA in the Indian Subcontinent results reinforced by the creation of this new partnership, which represents an important new component in the Fagioli Group and a relevant element of growth in Fagioli's SpA strategy in the area".