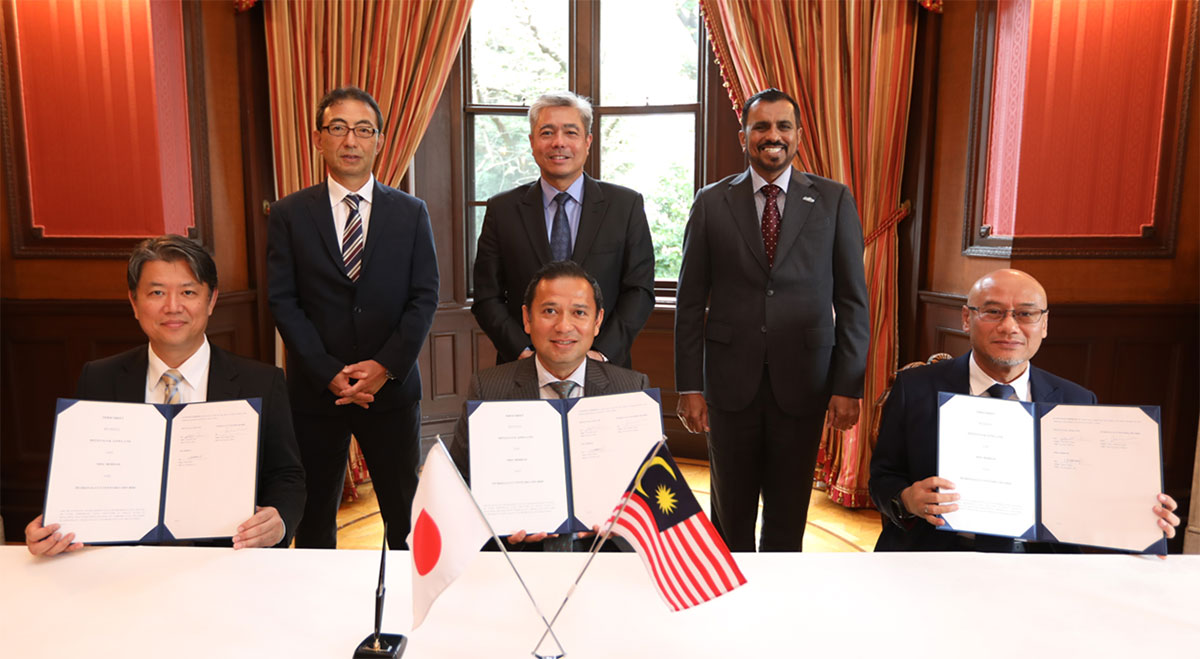 MOL, PETRONAS and MISC set the stage for the Development of Liquefied CO2 Carriers
TOKYO : Mitsui O.S.K. Lines, Ltd announced that MOL has principally reached an agreement with two Malaysian companies PETRONAS CCS Ventures Sdn Bhd (PETRONAS CCS Ventures), a wholly-owned subsidiary of Petroliam Nasional Berhad (PETRONAS) and MISC Berhad (MISC), a global provider of energy related maritime solutions and services, for the potential establishment of a joint venture to invest in the development and monetisation of Liquefied Carbon Dioxide (LCO2) carriers for CCS projects. MOL, PETRONAS CCS Ventures, and MISC will move forward to reach a definitive agreement for the incorporation of the joint venture.
The agreement was signed by MOL Executive Officer, Yasuchika Noma, PETRONAS CCS Ventures CEO, Emry Hisham bin Yusoff, and MISC Vice President GAS Assets & Solutions, Hazrin Hasan. MOL Executive Vice President/COO Toshiaki Tanaka, PETRONAS Executive Vice President & CEO Upstream, Datuk Adif Zulkifli and MISC President & Group CEO Captain Rajalingam Subramaniam witnessed the signing of the agreement.
In February 2022, MOL concluded a Memorandum of Understanding (MoU) with PETRONAS (Note 1), and in June 2023, obtained Approval in Principle (AiP) for the design of an LCO2 carrier and floating storage and offloading (FSO) (Note 2), and has been developing business related to the marine transport of liquefied CO2. MISC recently became a partner in this collaboration and will cooperate with MOL in the study of development of various transport methods, mainly LCO2 carriers, as well as the optimal business model through a shipowner JV with the aim of establishing the way toward a flexible approach to various transport needs in the future. Through further collaboration with PETRONAS CCS Ventures and MISC, MOL will contribute to build CCS value chain swiftly, contributing to the achievement of a carbon-neutral society.
The MOL Group Vision is to develop a variety of social infrastructure businesses in addition to traditional shipping services, and meet evolving social needs, including environmental conservation, with innovative technology and services. The agreement is in line not only with the MOL Group Vision, but also with the expansion of offshore and non-shipping businesses, set out in the "BLUE ACTION 2035" management plan and promotes low-carbon/ decarbonized businesses by leveraging the group's collective strengths outlined in the "MOL Group Environmental Vision 2.2."