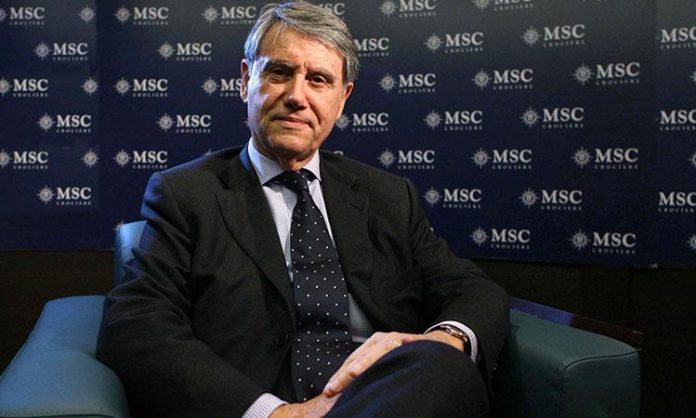 MSC's Founder and owner Gianluigi Aponte is one of world's richest men, reveals leaked figures
GENEVA : A massive revenue surge amounting to sky-high profits aligned with a tonnage tax that effectively saw negligible taxes levied on shipping lines has pushed MSC's Founder and owner Gianluigi Aponte into the mega-rich bracket with Jeff Bezos and Elon Musk, said one observer.
Figures leaked by Italian publication Il Messagaro reveal that the world's biggest container line MSC had an income that matched Amazon's, making MSC owner, Captain Gianluigi Aponte, one of the richest men in the world, said an industry banker.
A more sobering analysis from former Barclays transport analyst and banker Mark McVicar suggests that Maersk and MSC's returns are very large numbers but remain broadly similar.
MSC Chairman Aponte is one of the most secretive tycoons in the world with the company's income a closely guarded secret from the time he acquired his first vessel, Patricia, in 1970 to the present day.
A former seafarer and bank teller his company recently overtook Maersk as the largest liner shipping company in the world, in capacity terms, as the carrier went on an unprecedented vessel buying spree.
Leaked figures, however, reveal that MSC has also surpassed Maersk in profitability with Maersk's 2022 revenues of US$81.5 billion surpassed by MSC's US$91 billion, and Maersk's EBITDA of US$36.91 billion is dwarfed by MSC's US$45.48 billion with the Swiss-based company also having US$66.3 billion in cash, more than double Maersk's US$27.1 billion.
CMA CGM, meanwhile, considered the world's third largest carrier, saw 2022 revenues of US$74.5 billion and an EBITDA of US$33.3 billion.
An industry banker told,"If a company is valued at 10 times its EBITDA that would mean MSC is worth close to US$500 billion that would put Aponte in with the big boys like Musk and Bezos."
He added, "All this income is practically tax free," he pointed out that the tonnage tax paid by carriers amounted to "pennies" and Aponte will have "A tax efficient network of non-disclosable businesses," that make certain that his income remains in his account and not a government's coffers.
"John Frederiksen, [the Norwegian tanker tycoon] is a small boy by comparison to Aponte," said the banker, Aponte compares to Elon Musk and Jeff Bezos," added the banker.
The leak of MSC's returns occurred as the carrier bought a 50% stake in Italian high speed rail company Italo. Recent acquisitions by MSC include Bollore African business, a stake in German terminal operator HHLA and a nought to hero in the tug business with the acquisitions in.
However, a former banker, Mark McVicar took a more measured view of the figures, pointing out that the Maersk and MSC figures were similar overall if you took into account that Maersk has an ongoing share buyback scheme.
McVicar also pointed out that while Maersk has also been building its business and transitioning into an integrator of the seas MSC was still mainly a port to port operator with some terminals and a cruise company.
He said the Maersk and MSC incomes were, therefore, "broadly comparable," McVicar also cautioned that the figure may obscure other critical information such as asset sales, but generally he said, "we knew it was a profitable business, but they [Maersk and MSC] are doing the same thing so unlikely to be a major difference in income."
McVicar also pointed out that bankers will always debate the value of a company, but he felt, "ten times EBITDA as a valuation of the company was too high, "It's a bit backward looking," he said, meaning that assessing the value through the lens of massive pandemic profits was likely to be excessive.
Nevertheless, McVicar believes that a multiple of five to seven times EBITDA, US$227.4 billion to US$318.36 billion, "is still a big number," in classic British understatement.
Either way concluded McVicar, both companies had made "dramatically more money than they ever expected to."