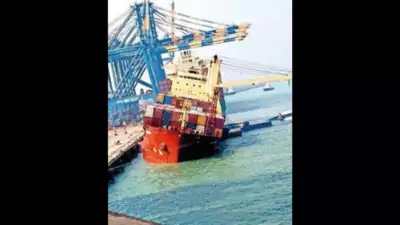 MV Sea Xpress tilted at MICT, stabilised
AHMEDABAD : In a bizarre incident, a Panama-flagged vessel tilted at the Mundra international container terminal (MICT) operated by DP World at Mundra Port, on Saturday afternoon. The vessel, Sea Xpress, had just docked at the terminal and tipped away from the port at around 1pm while it was being unloaded. Mundra port is owned and managed by Adani Ports and Special Economic Zone Limited (APSEZ).
Sources said the vessel developed a list due to greater weight on one side while containers were being unloaded.
"As soon as the port authorities received this information, emergency protocols were activated. According to our standard operating procedure (SOP) on preparedness, we responded by deploying tugs and our marine and port management teams rushed to the spot," said an APSEZ spokesperson. The vessel was finally stabilised at around 6pm.
"Our teams assisted in ensuring the safety of personnel and the vessel. The cause of the vessel's tilting are being investigated by the authorities. All personnel are safe and secure. There has been no damage to jetties or port property. Port operations are normal," the spokesperson further added.