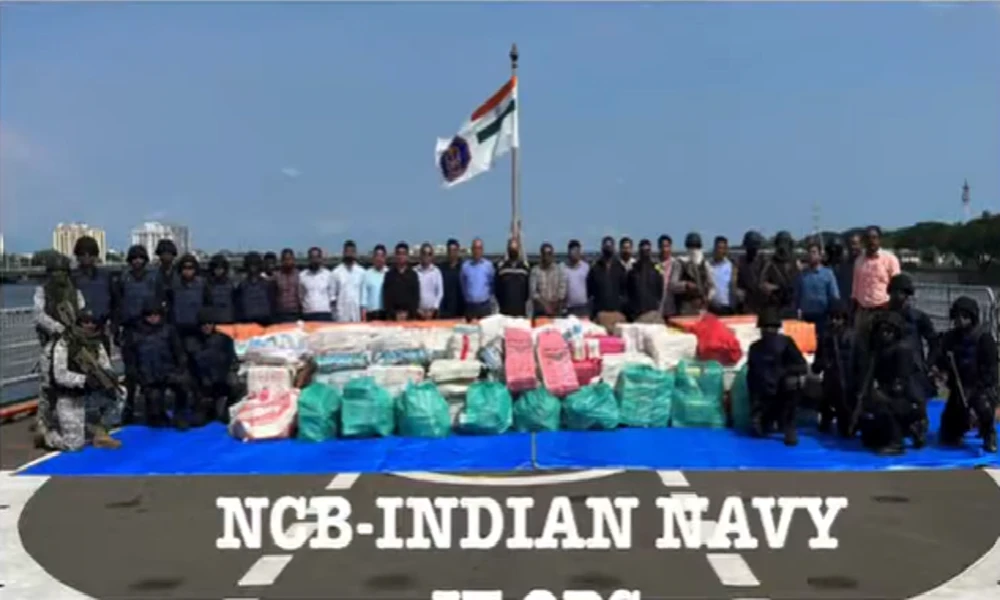 NCB & Indian Navy catches narcotics carrying 'mothership' in Indian Ocean, seizes 2,500 kg methamphetamine worth Rs 12,000 Crores
NEW DELHI : In one of the "largest seizures of narcotics" till date, the Narcotics Control Bureau (NCB) Friday impounded around 2,500 kg of high-purity methamphetamine worth about Rs 12,000 crore by intercepting a "mothership" carrying drugs in the Indian waters.
Motherships are large sea-going vessels carrying major quantities of contraband narcotics for distribution to receiving vessels over the route. They usually get stationed in international waters with bulk contraband, and smaller ships called dhows pick up the contraband from the mothership and deliver it to their respective destinations.
Until Friday's operation, the NCB had only been able to seize dhows that carry 200 to 300 kg of contraband, bureau sources said.
According to one source, the intercepted mothership was stationed in the Indian Ocean close to Oman and contraband from the ship is believed to have been set for dispatch to India, Sri Lanka and the Maldives.
A senior NCB officer told : "The seizure, which was part of Operation Samudragupta, targeting maritime trafficking of drugs originating from Afghanistan, was carried out jointly by the NCB and the Indian Navy and one man suspected to be a Pakistani national has been detained."
It is the third major seizure by the NCB since Operation Samudragupta took off in February 2022 to disrupt maritime trafficking through the southern route, the officer added.
In February last year, a team of the NCB and Indian Navy had seized 529 kg of hashish, 221 kg of methamphetamine and 13 kg of heroin in the high seas off the coast of Gujarat, all allegedly sourced from Balochistan and Afghanistan.
According to the NCB officer, a total of approximately 3,200 kg of methamphetamine, 500 kg of heroin and 529 kg of hashish has been seized in Operation Samadragupta so far.
"The primary objective of the operation was to collect actionable inputs which could lead to interdiction of ships carrying narcotics contraband. For this task, the team exchanged and gathered information from drug law enforcement agencies such as the Directorate of Revenue Intelligence, Anti-Terrorism Squad in Gujarat and intelligence agencies," the officer said.
"The team also cultivated numerous domestic as well as international assets. Technological interventions were also deployed in generating actionable inputs," the officer added.
Friday's seizure of drugs is the largest in terms of monetary value, NCB Deputy Director General (Ops) Sanjay Singh was quoted as saying in the media.
Trafficking of methamphetamine, also called crystal meth, remains a challenge for enforcement agencies.
According to a report released by the United Nations Office on Drugs and Crime in 2022, trafficking of methamphetamine continues to expand geographically, with 117 countries reporting seizures of the drug during 2016-2020, versus 84 during 2006-2010. The quantities of meth seized grew five-fold between 2010 and 2020.
According to the report, worldwide opium production grew seven per cent between 2020 and 2021 to 7,930 tonne — predominantly owing to an increase in production in Afghanistan. However, the global area under opium poppy cultivation fell by 16 per cent to 2,46,800 hectare in the same period.