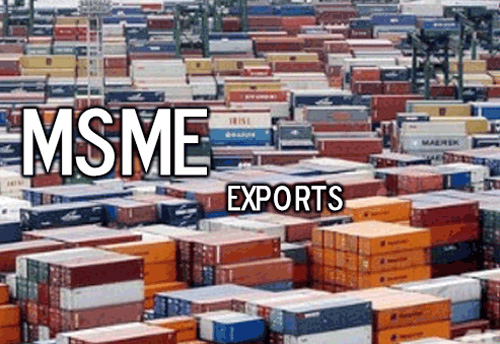 The new foreign trade policy is a watershed moment for MSMEs
NEW DELHI : The newly launched Foreign Trade Policy (FTP) by the Directorate General of Foreign Trade (DGFT) is the most significant one yet. While multiple factors such as the pandemic and geopolitical tensions delayed this policy, the new iteration showcases the vision of the government on how exports will take the country to its next phase of growth.
This time around, the government has shifted from a five-year policy cycle to a more dynamic setup, one which can be modified based on relevant developments. Stakeholders will now be given their due consideration for any changes as and when required. Further, states and districts will also see wider participation in the consultative process to promote grassroot level exports.
The government has set an ambitious target of reaching $2 trillion in exports by 2030. MSMEs will be at the forefront of this and consequently are the largest beneficiaries of this new FTP. License fees which used to be one of the largest burdens for exports have been reduced significantly. While previously the FTP used to be incentive based, this time around it has been done with the intent of benefitting the entire ecosystem and bringing Indian products into the global value chain.
This FTP is also banking heavily on technology where different departments of the government will now be interconnected to generate data that can be leveraged to improve the policy, draft trade agreements between other countries and benefit citizens and our economy. Under the FTP 2023, MSMEs will receive various incentives and support to enhance their exports. One of the key benefits is the reduction of compliance costs for exporters. The policy will simplify the export procedures and reduce the time taken for clearance, which will help MSMEs save costs and improve their competitiveness. The policy will aid in empowering MSMEs by providing them with a level playing field to compete with larger players in the global market. Under the new FTP MSMEs will also have access to the Export Credit Guarantee Corporation (ECGC) scheme for small exporters launched in 2022, which will provide credit insurance to exporters and enable them to access credit at lower rates.
The policy also includes a separate chapter on promoting cross-border trade in the digital economy through e-commerce exports. The policy aims to promote e-commerce exports by providing MSMEs with access to international e-commerce platforms. This will enable them to reach out to a global audience and sell their products directly to customers in foreign markets.
The government will also provide support for MSMEs to set up their e-commerce platforms and enhance their digital capabilities. The setting up of dedicated e-commerce hubs will simplify storage, customs clearance, returns processing, labelling, testing, and repackaging.
The proposal to operationalise post offices throughout the country to facilitate ecommerce exports fulfilment will aid MSMEs in simplifying logistics. The government will set up technology centers and incubators to help MSMEs upgrade their skills and adopt modern technologies. The policy also aims to promote research and development in MSMEs by providing them with funding and support. But there needs to be special outreach to spread awareness, initial handholding, and capacity building initiatives to promote e-commerce exports among seller community.
While the FTP 2023 is a visionary policy, a concrete roadmap is required to achieve its objectives, particularly with regard to logistics, payment reconciliation and compliance, which are pain points for smaller sellers. Developing long-term capabilities is paramount, and pre-existing examples of e-commerce exports can be referred to for this. Proper implementation and enablement can help MSMEs play a significant role in driving India's exports and economic growth in the years to come. The FTP 2023 is expected to have a significant impact on the MSME sector, which is set to benefit from several measures aimed at promoting exports. Reduction in fees, inclusion of duty credit scrips, duty exemptions and remission schemes are some of the key provisions under the policy. These provisions are beneficial to the MSME sector as it will make it easier and affordable for them to engage and operate in the international markets. FTP 2023 aims to promote ease of doing business and encourage state and district-level players to increase their export operations. The Dak Ghar Niryat Kendras, post offices designated to facilitate exports by MSMEs, have been operationalized to work in tandem with Foreign Post Offices under FTP 2023 This will facilitate the MSME sector to access and leverage the postal networks to deliver their products globally.
In conclusion, the FTP 2023 is a step in the right direction for empowering MSMEs, particularly those engaged in e-commerce exports. The policy will provide them with the necessary support and incentives to compete effectively in the global market.