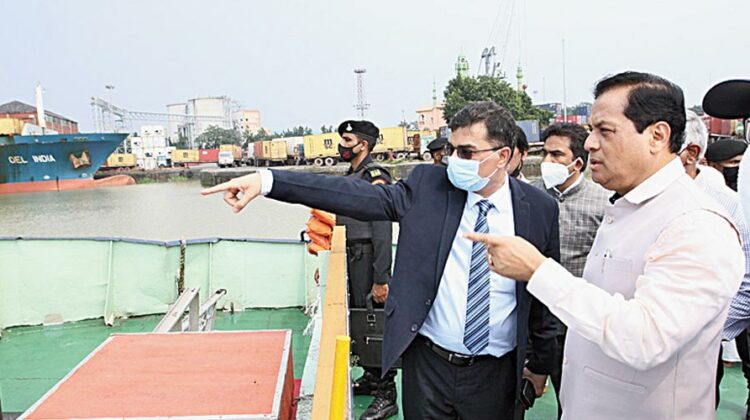 New shipping container terminal to be developed at Khidderpore

---
KOLKATA : A new shipping container terminal is coming up at Khidderpore to handle barges and small ships with an eye to connect with north east India via the Indo-Bangladesh Protocol river route.
Six companies, including Adani, are in the fray to develop the terminal which may call for Rs 180 crore investment.
Once the terminal is developed and the riverine stretch on the Yamuna is navigable up to Chilmari Port — in northern Bangladesh bordering Assam — Syama Prasad Mookherjee Port , Calcutta, may play an important role in connecting north eastern India by a river route.
The port and the connectivity to the north east is in focus after Shri Sarbananda Sonowal took over as the Union Shipping Minister. Shri Sonowal, who hails from Assam, is now on a two-day trip to Calcutta and Haldia, his first after taking the ministerial portfolio.
At present, barges and ships are going to Bangladesh with cargo. However, vessels are unable to reach Chilmari because of low river depth. The Indian government is now funding the dredging of a 110 km stretch between Sirajgunj to Chilmari to make it navigable.
"Cargo will come from north and central India by railways, loaded to barges which will go all the way up to the Indo-Bangla border. There may be demand to send edible oil from here while tea could be return cargo from Assam," Vinit Kumar, chairman of SMP, Calcutta, said.
If successful, this river route could provide an alternative gateway to landlocked north eastern states to do business with the rest of India and the world.
---