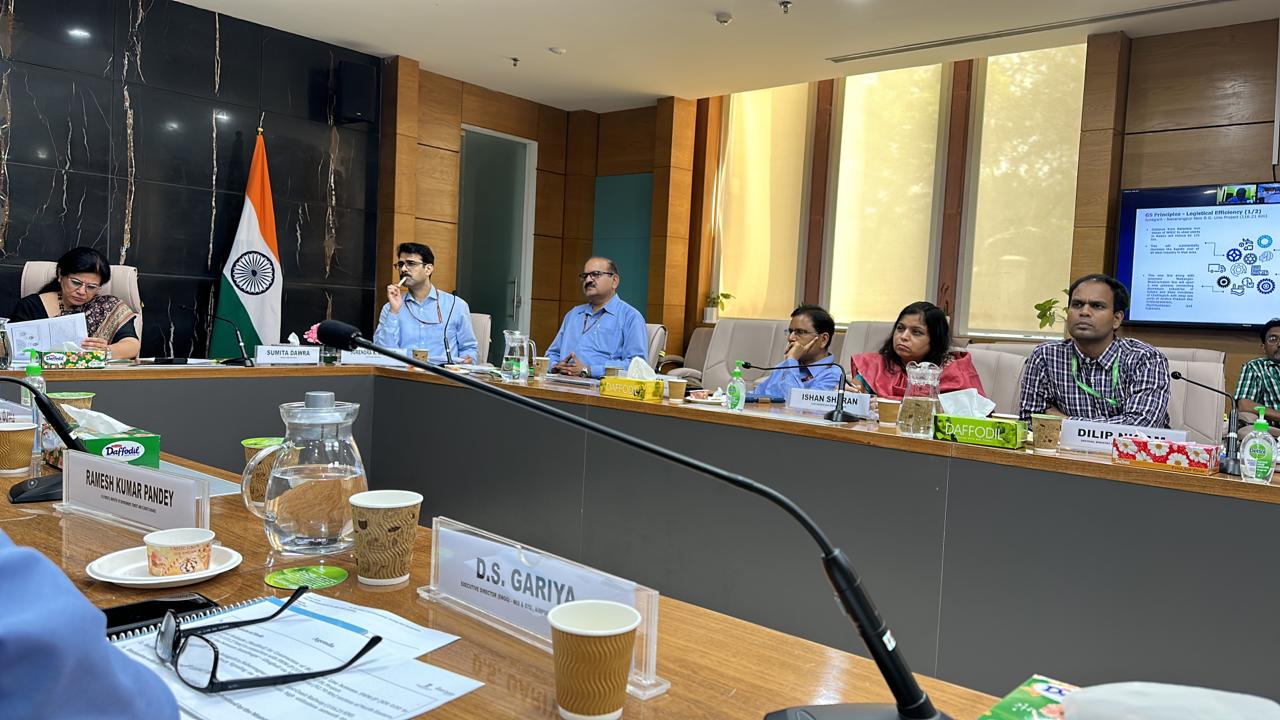 NPG under PM GatiShakti recommends 4 Infrastructure projects at its 46th Session
NEW DELHI : The Network Planning Group (NPG) under PM GatiShakti at its 46th session examined and recommended 4 Infrastructure projects. The meeting was chaired by the Special Secretary, Logistics Division, DPIIT, Ms. Sumita Dawra and saw active participation of senior officials from key member ministries/departments including Department of Telecommunication (DoT), M/o Environment, Forest and Climate Change, M/o Railways, M/o Ports, Shipping and Waterways, M/o Civil Aviation, M/o Power, NITI Aayog, M/o Road Transport and Highways, M/o Petroleum and Natural Gas and M/o New and Renewable Energy. During the meeting 4 projects by M/o Railways were examined by the NPG and recommended. These projects will be developed in tandem with the PM GatiShakti Principles using the integrated and holistic approach. These projects will also provide multimodal connectivity, seamless movement of goods and passengers as well as increase logistics efficiency across the country.
A project by the Ministry of Railways for construction of Broad-gauge double line between Sawai Madhopur and Jaipur in Rajasthan state was examined by the NPG. The project spans approximately 131 kilometers from Sawai Madhopur to Jaipur and is deemed to be a significant infrastructure initiative. Upon completion, the project is expected to improve the line capacity to 71% (without maintenance block) and 80% (with maintenance block) by the year 2026-27. The Jaipur-Sawai Madhopur route serves as a feeder to the Delhi-Mumbai route, and it represents the primary conduit connecting Jaipur, its environs, and Mumbai, southern and eastern parts of India. The proposed project would help alleviate congestion in the existing single line network, resulting in uninterrupted traffic flow.
Further, the National Planning Group (NPG) has evaluated a project proposed by the Ministry of Railways for the construction of a new Broad-gauge line between Anand Nagar Ghughuli via Maharajganj on Northeastern Railway in Uttar Pradesh state. The proposed project spans approximately 53 kilometers from Anand Nagar and would be constructed as a Broad Gauge (BG) Line. It is anticipated that the project would enhance economic development of the region by providing a direct B.G. route to the project area. The new line would serve as an alternate and shorter route for trains traveling from Valmikinagar to Gonda via Maharajganj without having to stop at Gorakhpur Junction. Passengers would benefit from this new line as the only transportation currently available in this section is by road. Additionally, the railway line is expected to facilitate the movement of cement, fertilizer, coal, and food grains, thus providing benefits to the related industries. Moreover, the railway line would enable freight movement to Nepal.
Another project by the Ministry of Railways for construction new Broad-Gauge line between Junagarh to Nabarangpur station in Odisha state was examined by the NPG. The proposed project spans approximately 116 kilometers from Junagarh to Nabarangpur. The construction of this new line is expected to reduce the distance from Bailadela iron ore mines to various steel plants in the Raipur region by 131 kilometers. Additionally, it is anticipated that the project would facilitate the logistics of steel plant, and goods sheds at Junagarh Road, Jeypore, Koraput, and other goods sheds on the RV line, which are the points of multi-modal logistics. This new line would provide an alternative route for the movement of coal from Visakhapatnam, Gangavaram, and Kakinada ports to various steel plants in the Raipur region. The provision of road-rail intermodal logistics is expected to enhance traffic to goods sheds at Jeypore, Junagarh Road, and Nabarangpur.
Last project by the Ministry of Railways was for Provision of Automatic Block Signaling on Freight Dense high utilization network on Western Railway. The project aims to cover 895 RKM and four major sections of Western Railway in Maharashtra & Gujarat State. The project will bring the balance freight dense High Utilization Network (HUN) Routes under the ambit of ABS, as ABS on High Density Network (HDN) routes of WR has already been sanctioned or exists. The benefit of the project includes enhanced line capacity and section speed to 130 kmph from 110 kmph that is likely to lead to cost reduction for the Railways and increase the overall logistics efficiency. This will result in a reduction of train detention and travel time, especially in the Udhna – Jalgaon, Ahmedabad – Palanpur, Ahmedabad- Viramgam- Samakhiyali, and Viramgam- Rajkot sections. Additionally benefits includes possible decongestion of road traffic and positive impact on the environment by reducing carbon footprint.
The 46th Session of the Network Planning Group (NPG) took place on 03.04.2023 in New Delhi