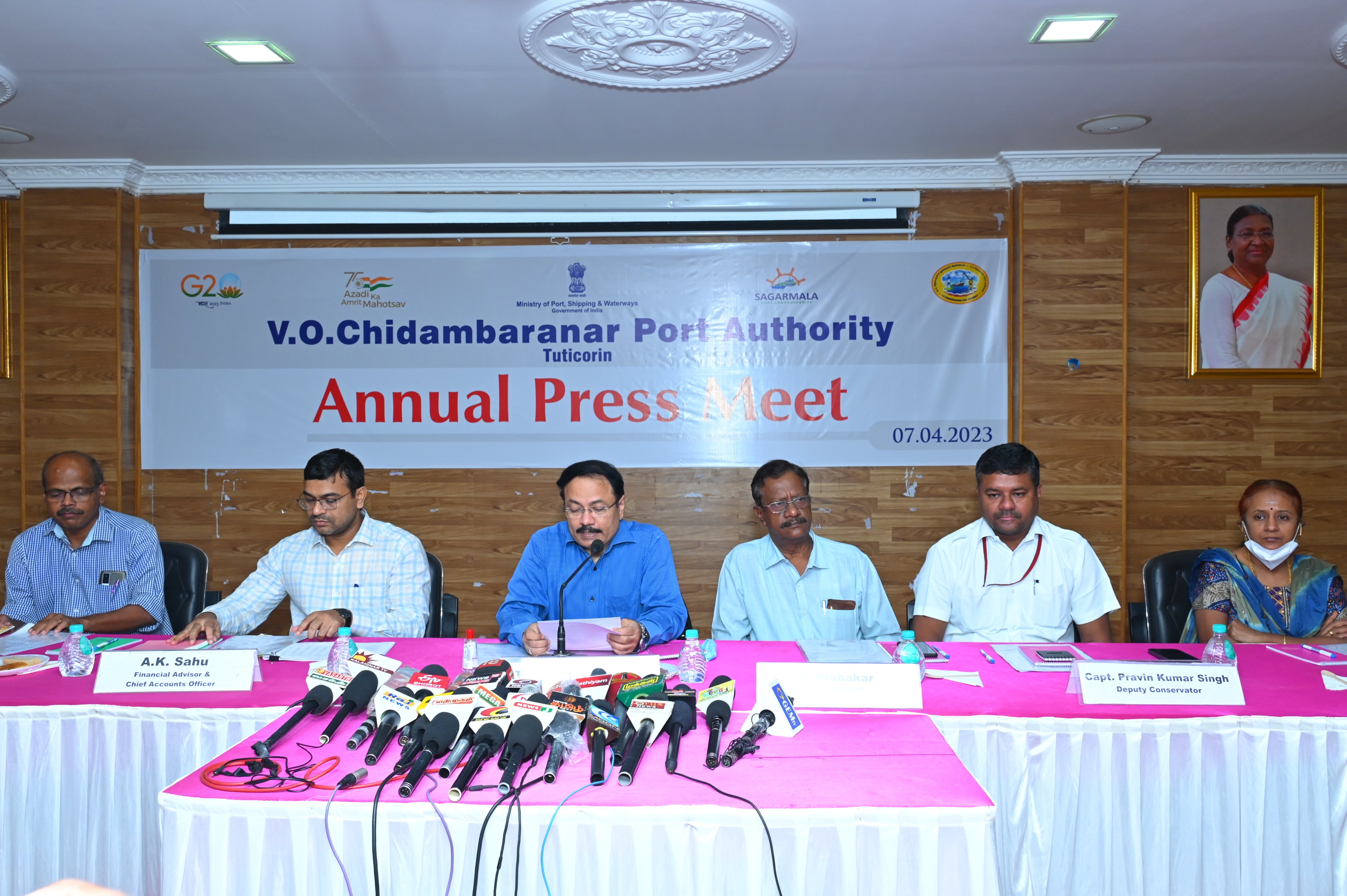 V.O.C Port handled 38.04 Million Tonnes of Cargo and achieved record revenue and profits during the financial year 2022-23
TUTICORIN : Shri T.K. Ramachandran, IAS, Chairman, presented the Traffic & Financial Performance and the status of projects taken-up by the Port for the FY 22-23 in a Press Conference as mentioned below.
Mr. Ramachandran stated that 'Given the positive trend driven by economic recovery, the Port will handle an all-time record throughput in this current financial year. VOC Port has also delivered impressive results on achievement of Capital Expenditure estimated for capacity augmentation which is 101.12%, of the CAPEX target. This shows its commitment towards achieving sustainable growth and strengthening its position among Major Ports. He also thanked all the Employees, Trade Unions, Terminal operators, enterprising Port users and Development Partners for their unstinted support for the growth and development of the Port".
Traffic Performance :-
During the financial year 2022-2023, V.O. Chidambaranar Port handled Cargo Traffic
of 38.04 Million Tonnes, against the previous year's achievement of 34.12 Million
Tonnes, registering a growth of 11.5%. Imports accounted for 28.60 Million Tonnes and
Exports accounted for 8.95 Million Tonnes and Transhipment accounted for 0.49 Million
Tonnes. It is also a matter of pride that the Port surpassed the 36.00 Million Tonnes target set
by the Ministry of Ports, Shipping and Waterways, for the financial year 2022-23 on
14.03.2023.
Financial Performance (Provisional):-
VOCPA has achieved the highest ever Total revenue in FY2022-23 of ₹816.17 croreas against revenue of the corresponding previous FY of ₹ 654.52 crore with a growth of about 25% year-on-year.
Operating Revenue (Provisional) for FY2022-23 is ₹733.27 crore as against corresponding figure for previous FY of ₹ 596.81 crore and grew 23% YoY.
Net surplus After Tax for FY2022-23 is ₹ 256.14 crore as against ₹ 136.80 crore in FY2021-22, registering a record growth of 87%. The Operating Ratio of 41%, is one of the best among the Indian Major Ports.

Operational efficiencies
The Port has seen an improved performance in terms of operational efficiency. During the Financial year 2022-23, the Overall TRT time has decreased considerably from 48.48 Hours during the financial year 2021-22 to 46.80 Hours and the average TRT of Containers has decreased from 22.32 hrs during the Financial year 2021-22 to 18.24 hrs during the
Financial year 2022-23. Idle Time at Berth (%) has also declined from 15.92% in 2021-22 to
13.01%in 2022-23 showing an improvement in Operational efficiency.

Notable Record Performances during 2022-23:
On 13.05.2022, Port handled the longest container vessel that ever called at the Port and berthed at M/s. DBGT terminal. MV. MSC Petra with LOA 300m was berthed at the Port surpassing the earlier record of accommodating a 277m container vessel MV. MSC Vidhi berthed on 20.03.2022.
On 26.05.2022, the first Cape Size vessel, 'MV Cape Breeze' with Length of 292 Metres, Beam of 45.05, metres and DWT of 1,80,000 Tonnes, was berthed at the Port.
Port has created a record by handling highest number of Import Windmill blades in a single consignment. 120 Import Blades were handled through the vessel MV. NanFeng Zhi Xing on 27.10.2022 in single consignment surpassing the previous highest of 60 blades handled in the single consignment.
Port has handled 36.81 lakh tonnes during the month of January, 2023 which was the highest tonnage handled in the month so far in the Port surpassing the previous record of 36.76 Lakh tonnes handled during the month of June 2022.
Port has created a new record by handling 1,94,136 Tonnes of cargo in a single day on 05.02.2023, surpassing the previous single day cargo handing record of 1,93,683Tonnes on 11.07.2022.
VOC Port has handled Coastal Traffic of 12.77 MMT during FY 2022-23 as against 10.55 MMT during the previous year which is the highest ever Coastal Traffic handled at VOC
Port.

Major Projects :-
(A) Completed :-
During the Financial year 2022-23, the Port completed many Projects like;
I. Coal Yard improvement at a cost of Rs. 16 Crores
II. Commissioning of Drive Through Container Scanner at a cost of Rs.42 Crores,
III. Modernisation of Fixed Fire Fighting Installation at a cost of Rs. 18.8 Crores,
IV. 140 KW Roof Top Solar Power Plant at a cost of Rs.70 Lakhs
V. Deployment of 6 e-cars at a cost of Rs.2.22 Crores (on wet lease basis)
VI. 100% lighting conversion to LED
(B) In Progress
I. Conversion of 9th berth as Container Terminal at a cost of Rs. 434.17 Crores
II. Modification and Widening of Harbour Entrance at a cost of Rs. 16.39 Crores
III. Mechanization of NCB III for handling Dry Bulk Cargoes on DBFOT Basis at a cost of
265.15 Crores
IV. 2 MW Wind Farm at a cost of Rs.26 Crores.
V. 5 MW Ground-based solar power plant at a cost of Rs. 16 Crores.
VI. For promoting Port based industries under Coastal Employment Unit (Tuticorin
SPEEDZ), land parcels totaling an extent of 54 Acres have been allotted in a phased
manner for Industries such as Edible Oil, Refinery, Food Processing, and Warehouses.
In addition, Port has allotted 12.79 Acres of land, including water area, for setting up of
a Cement bulk terminal.
(c) Proposed
I. Development of Outer Harbour with two container terminals (Continuous Quay length
of 1000 metres each), with draft of 16 Metres, at a cost of Rs 7055.95 Crores, in the
first phase, through PPP mode. In future, the draught will be enhanced to 18 m to handle
22,000 TEU vessels
II. 60 MW Wind – Solar Hybrid Renewable Energy park and Green Hydrogen park
III. Capital dredging in front of NCB III up to (-)15.1m to handle vessels up to (-)14.20m
draught and beam up to 40mtrs
IV. Deployment of 4 HMCs for improving productivity & TRT
V. Deployment of additional e-cars, e-buses and 5 charging stations
VI. Floating Solar & Micro Wind Power project
VII. Green Hydrogen, Ammonia and Methanol Bunkering Facilities
VIII. For implementation of Off-Shore Wind Power Project of 30 GW capacity all along the
Coast of Tamilnadu, Ministry of New Renewable Energy has identified VOC Port as the
Nodal Port