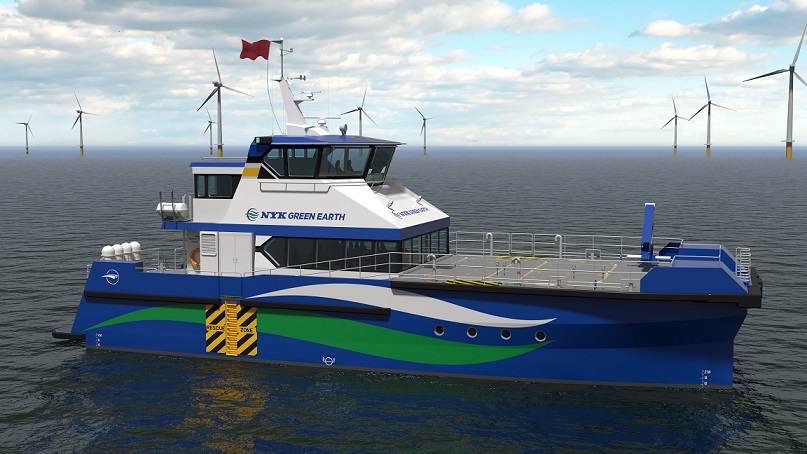 NYK and Siemens Gamesa Conclude Charter Agreement for Crew Transfer Vessel for Offshore Wind Power Generation at Ishikari Bay New Port
TOKYO : On February 15, NYK has concluded a time charter contract with Siemens Gamesa, the world-leading provider of wind power solutions, for a crew transport vessel (CTV)* for an offshore wind power generation facility.

The CTV will be owned by NYK and managed by Hokkaido-based Hokuyo Kaiun Co., Ltd., an NYK Group company. The vessel will be engaged in transporting workers to the offshore wind power generation facility at Ishikari Bay New Port, which is scheduled to begin commercial operation in December 2023.

The Ishikari Bay New Port offshore wind farm project is being developed by Green Power Ishikari LLC, a special purpose company (SPC) established by Green Power Investment Corporation. It plans to construct, operate, and maintain 14 units of SG 8.0-167 DD offshore wind turbines manufactured by Siemens Gamesa in a sea area of approximately 500 hectares. 

The CTV will be used to transport workers between the offshore work site facilities and the onshore base for maintenance work after the offshore wind turbines are in operation.

The market for CTVs is expected to grow to over 100 vessels in about 20 years, starting around 2026, when the construction of offshore wind power generation facilities in Japan is expected to begin in earnest. This will be the first CTV operation inside Japan by the NYK Group, and we aim to use this as a foothold for further expansion into the offshore wind power generation business, which is expected to grow in the future.
Crew Transfer Vessel (CTV)
An aluminum catamaran of about 20 to 40 meters in length that is built for high-speed operation and comes equipped with stability equipment to transport technicians and crews safely and comfortably to and from sites during offshore wind power construction, maintenance, and operation of offshore wind farms.
In 2021, NYK released the NYK Group ESG Story, which aims to further integrate ESG into the company's management strategy and promotes activities that contribute to the achievement of the SDGs through business activities. On March 24, 2022, NYK released the updated NYK Group ESG Story 2022, which introduces initiatives for integrating ESG into the Group's management strategies set forth in the "NYK Group ESG Story" and provides a partial explanation of the Group's sustainable growth strategy from a long-term perspective.

In addition, NYK has launch its new "NYK GREEN EARTH" brand to emphasize NYK's ESG efforts to create new value initiatives for low carbon and decarbonization through green businesses such as business related to offshore wind power generation. The NYK Group will encourage new value creation as a sustainable solution provider in order to strongly promote ESG management.