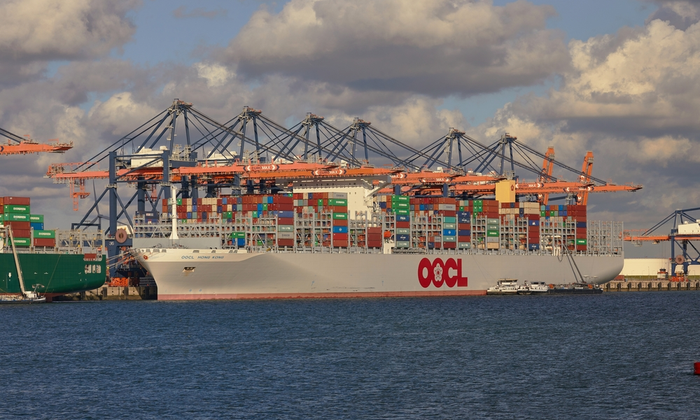 OOCL launches new China-US service as US import demand expectations remain strong
HONG KONG : OOCL is launching a expressed shipping service connecting China with Long Beach, California, in a bid to up efficiency and capacity on the eastbound trans-Pacific run, the Hong Kong-based company said .
OOCL's Pacific China South Express will call at the Chinese ports of Shanghai, Fuqing, Xiamen and Yantian and then Long Beach, before returning to Shanghai.
The service has an advertised transit time of 19 days and began on Nov. 20 from Shanghai.
This comes as the trans-Pacific market remains under pressure from redoubled port congestion on both sides of the Pacific, and acute capacity issues brought on by blanked sailings and global demand strength.
"Blanked sailings are still taking 20%-25% of capacity each week," one freight forwarder said. "[Pre-Lunar New Year] volume growth could still be flat to very low single digits, but capacity in flux will make it appear tighter than it is."
Platts Container Rate 13 – North Asia-to-West Coast North America – was most recently assessed at $8,400/FEU, down from all-time highs of $9,000/FEU seen in October.
US import strength expected through year-end
Expectations for US import demand remain strong, with volumes forecast above 2 million TEU in both November and December, down slightly from 2020 according to data from the National Retail Federation.
In January, volumes into the US are anticipated at 2.21 million TEU, up nearly 8% from January 2021.
The Port of Los Angeles said Nov. 18 it handled 902,644 TEU in October, a drop of 8% compared to October 2020. However, year to date cargo volume has surged 22% against 2020, and cargo expectations through the end of the year remain strong.