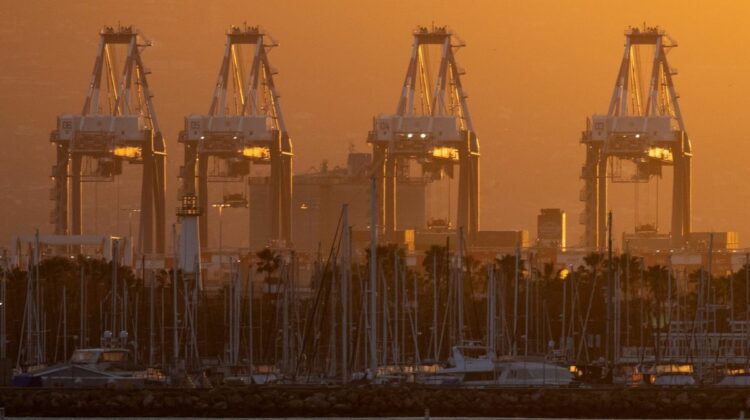 Pacific Port Problems Pile More Strain on Bustling Trade Lane

---
When will this end?
That was a WhatsApp message your Supply Lines correspondent received this week from a Hong Kong-based manufacturer who is grappling with the ongoing choke points hampering global supply chains.
The frustration comes amid a daily drumbeat of negative news on how the spreading delta variant is ricocheting though factories in South East Asia to ports on the east coast of China, with knock-on consequences for world trade.
The latest news from Ningbo won't lift exporters' spirits. The partial closure of the world's third-busiest container port is worsening congestion at other major Chinese ports, as ships divert away. For example, the number of container ships anchored off Xiamen on China's southeast coast rose to 24 from six at the start of the month, according to shipping data compiled by Bloomberg.
The Meishan terminal at Ningbo port was shut last week after a dock worker became infected with the delta variant of Covid-19. The terminal accounts for about a quarter of the port's capacity, and it was still closed Tuesday, according to a worker in the press office.
In Charts: How Partial Ningbo Shutdown Is Affecting Capacity
Major shipping lines are having to skip Ningbo after the closure, according to Simon Heaney, senior manager of container research at Drewry Shipping Consultants.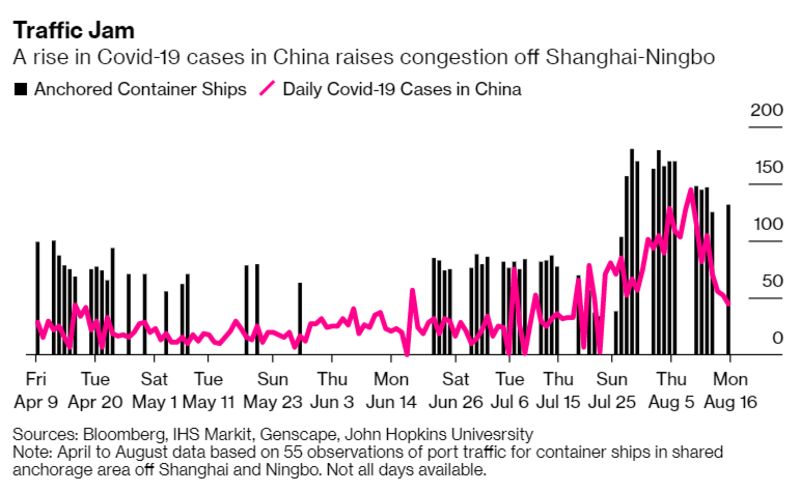 For a sense of the backlog, consider this: There were 141 ships at a shared anchorage for the Shanghai and Ningbo ports Tuesday, 60 more than the median number from April to August, according to Bloomberg's calculations.
It's a similar story across the Pacific.
The biggest U.S. trade gateway with Asia is clogged with the most inbound container vessels in more than six months. Thirty-five ships were anchored awaiting berth space outside the twin ports of Los Angeles and Long Beach, California, as of late Monday, close to the most since early February.
The average wait for berth space was 6.2 days, compared with 5.7 in late June, according to L.A. port figures.
Such snarls are leaving manufacturers with little hope for near -term relief.
Thompson Lai, who runs a steel business in Hong Kong and imports from around the world, sees little prospect of a circuit breaker in the near term and said his company is at risk of losing orders. Lai buys steel from China, Japan, Taiwan, India, Australia, South Africa and France.
"I don't see any big improvement in the next three months at least," said Lai, Executive Director of Wo Lee Steel. "Shippers can't tell me the exact shipping date because they can't book the containers."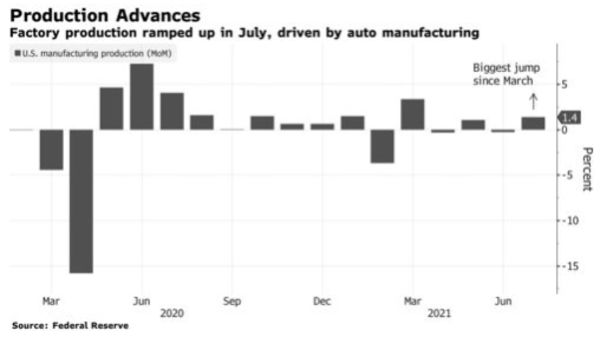 Production at U.S. factories strengthened in July by the most in four months, rebounding above pre-pandemic levels and indicating manufacturers are coping with snarled supply chains and shortages. The 1.4% increase followed a revised 0.3% drop in June, Federal Reserve data showed Tuesday. Total industrial production, which also includes mining and utility output, rose 0.9% in July.
Today's Must Reads
On the Bloomberg Terminal
Chip dearth | The semiconductor shortage could cost China's auto industry as much as one to two million unit shipments this year, Bloomberg Intelligence says. The high end of that range is well within reach, as demand for chips extends beyond the automotive sector.
Cooling overstated | The New York Fed's Empire State Manufacturing Survey dipped in August to 18.3 from from a record high last month, but there's no cause for alarm, Bloomberg Economics says. The six-month outlook rose, suggesting that businesses are not yet showing too much concern about supply-chain bottlenecks and inflationary pressures.
Use the AHOY function to track global commodities trade flows.
Click HERE for automated stories about supply chains.
See BNEF for BloombergNEF's analysis of clean energy, advanced transport, digital industry, innovative materials, and commodities.
Click VRUS on the terminal for news and data on the coronavirus and here for maps and charts.
Like Supply Lines?
Don't keep it to yourself. Colleagues and friends can sign up here. We also publish the New Economy Daily, a briefing on the latest in global economics.
For even more: Follow @economics on Twitter and subscribe to Bloomberg.com for unlimited access to trusted, data-driven journalism and gain expert analysis from exclusive subscriber-only newsletters.
How are we doing? We want to hear what you think about this newsletter. Let our trade tsar know.
Source : Bloomberg
---