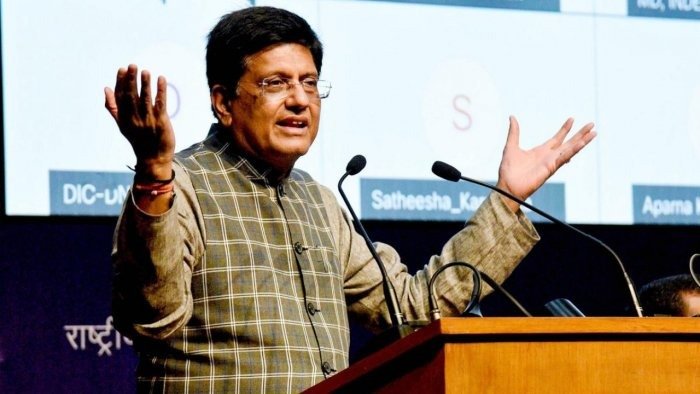 Piyush Goyal expresses confidence that India's merchandise and services exports would touch 750 billion dollar this year
NEW DELHI : Commerce and Industry Minister Shri Piyush Goyal expressed confidence that the country's merchandise and services exports would touch 750 billion dollar this year. 
He also informed that the export figure for last year had already been crossed in February. Speaking at the Raisina Dialogue in New Delhi, the Minister underlined that focus on sustainability and added that quality will hold India in good stead in the times to come.
Highlighting the government's efforts in bringing quality consciousness, he informed that the number of Quality Control Orders (QCOs) have grown by over four times and now stands at about 440 products. He said that it will grow upto 2000 in next two years and help the country in achieving its Zero Defect, Zero Affect aspiration. Appreciating the country's business ecosystem as stable and investor-friendly, the Minister informed that many many companies are in talks with India for investing in the semiconductor chain.
Responding to a question on India achieving the highest export figure in the past year, the Minister said that it was the result of a deep-dive analysis and extensive planning where India's capabilities were thoroughly assessed, new markets were sought out, districts, especially remote ones were empowered to become export hubs and all Indian Missions abroad were effectively leveraged to promote trade, technology and tourism.
The Minister noted that last year, the merchandise and service trade had crossed USD 650 billion.
Goyal noted that the transformational initiatives undertaken by the government over the last decade, such as the Swachh Bharat Mission, electrification of around 35 million homes in rural India, creation of a robust power grid, housing for all, free healthcare for over 500 million people had held India in good stead to overcome the challenges posed by the pandemic.
On semi-conductor production in India, the Minister said many companies were already in dialogue for investing in India because of India's stability and investor-friendly business ecosystem.
Lastly, he reiterated that India would soon touch the mark of being a USD 5 trillion economy and said that it would emerge as the third-largest economy in the world by 2027-28. Currently, India is the fifth largest economy.
By 2047, India will be a developed economy with a USD 32 trillion economy, he said, where every last citizen would have access to a good quality life.