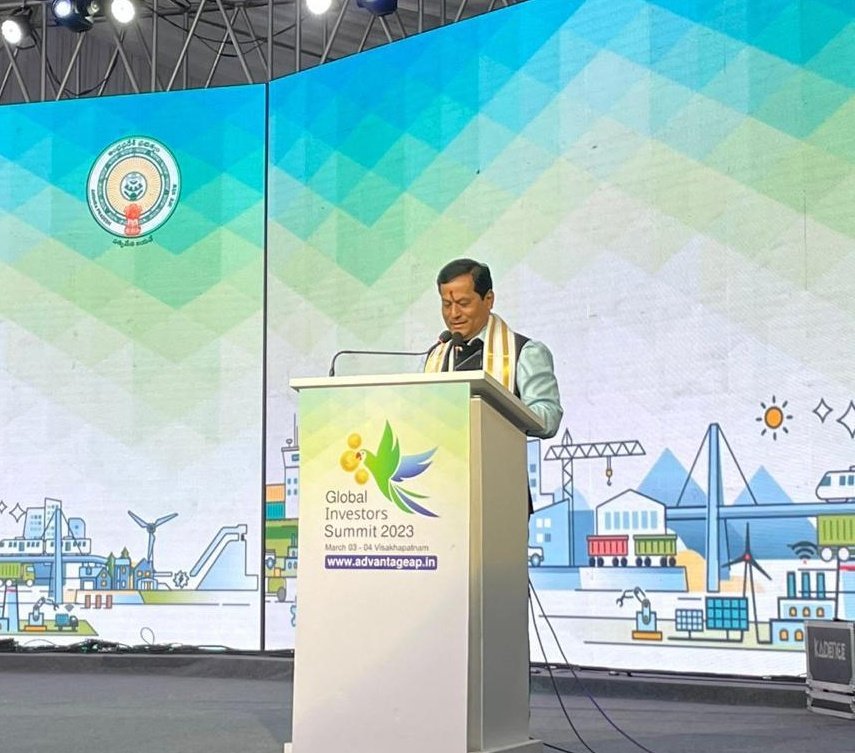 Sagarmala projects worth Rs 1 lakh Cr identified in Andhra Pradesh: Shipping Minister
VISAKHAPATNAM : More than 110 projects worth around Rs 1.1 lakh crore have been identified in Andhra Pradesh under Sagarmala, even as 35 works worth Rs 32,000 crore have already been completed, Union Minister of Ports and Shipping Shri Sarbananda Sonowal said on Saturday here. Speaking at the Global Investors' Summit being held here, he said some of the projects are focused on roll on roll off (RORO), passenger jetty, fishing, port modernisation and skill development among others.
According to the Minister, Visakhapatnam Port has exhibited a healthy cargo growth of over 7.5 per cent in 2022-23.
"Following directions from the Ministry, the port is in the process of transforming as a landlord port. Other ports also may comply by 2023," said the Shipping Minister.
He said six projects are operating in Visakhapatnam Port, awarded in January 2023 with an investment of Rs 658 crore.
Further elaborating, Sonowal said the Ministry of Ports, Shipping, and Water in association with the Ministry of Fishing is upgrading fishing harbours all over India as per international standards.
As many as 31 such harbours will be developed under Sagarmala and Pradhan Mantri Macha Sampada Yojana, he said.
Likewise, the fishing harbour at Visakhapatnam is being upgraded at a cost of Rs 151 crore, which will result in improving the quality of life of the local fishing community.
Moreover, the Union Minister noted that the international cruise terminal in the port city of Visakhapatnam is nearing completion at a cost of Rs 97 crore, and is likely to start operations from April.
Sharing information on achievements at the national level, Sonowal said cargo handling capacity has risen by 79 per cent in the past nine years, including merchandise exports touching a value of $421 billion in 2021-2022.
Launched in March 2015, the Sagarmala programme includes projects from various categories, such as modernisation of existing ports and terminals, new ports, terminals, Ro-Ro (Roll on/Roll off) & tourism jetties, enhancement of port connectivity, inland waterways, lighthouse tourism, industrialisation around ports, skill development, and technology centres.