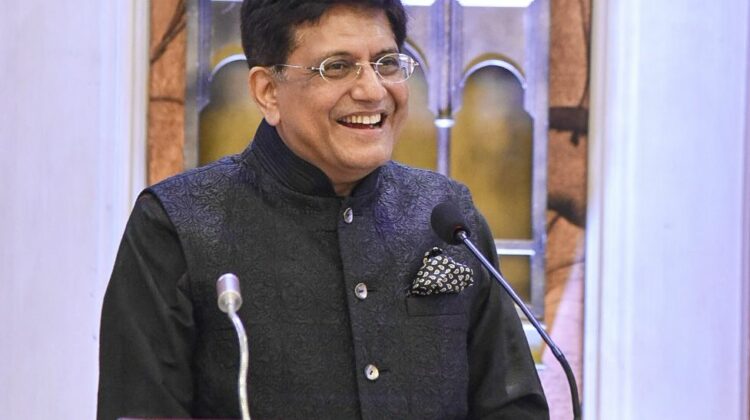 Piyush Goyal to visit Canada, hold talks on trade pact
NEW DELHI : Union Commerce and Industry Minister Shri Piyush Goyal is expected to visit Canada next week and that trip could add political momentum to the ongoing negotiations for an Early Progress Trade Agreement ( EPTA).
Goyal is scheduled to be in the Canadian capital Ottawa on May 8, for a bilateral Ministerial Dialogue on Trade and Investment with Canadian Minister of International Trade, Export Promotion, Small Business and Economic Development Mary Ng.
He is then scheduled to visit Toronto on May 9 and 10 for meetings with trade and industry representatives and chambers of commerce.
The trade dialogue between the two countries started in March last year when Ng visited New Delhi and met Goyal. They also launched the EPTA process. The EPTA, if concluded, will be a transitional step towards the Comprehensive Economic Partnership Agreement (CEPA).
Indian and Canadian negotiators concluded their seventh round of discussions towards securing the EPTA in April. India and Canadian officials said there was "some progress" during the four-day discussions in Ottawa, as the two teams lead by their chief negotiators met in the Canadian capital. Some differences persist, officials said, but were not considered insurmountable.
Goyal's possible visit, a senior Indian official said, could help give political direction to the talks and give them "momentum".
Both countries originally hoped to finalise the agreement within a year but that deadline has elapsed and they are targeting potential finalisation of the document this autumn.
Overcoming key hurdles will depend on political will, and critical decisions could be made when Ng meets Goyal. They are also expected to sit across the table on the margins of the G20 Trade Ministers vertical in Jaipur in August.
Both nations have focused on strengthening trade ties recently. After Canada's Minister of Foreign Affairs Melanie Joly met India's External Affairs Minister Shri S Jaishankar in New Delhi this March, the latter tweeted the talks encompassed bilateral issues including, among other matters, "trade, connectivity and people to people ties".
Joly told attendees at the Indo-Canadian Business Chamber meet in New Delhi in March the "economic potential contained in strengthening the Canada-India relationship can't be understated".
According to Global Affairs Canada, in 2022, India was Canada's 10th-largest merchandise trade partner, and "the relationship has been steadily growing". Two-way foreign direct investment between Canada and India amounted to CA$4.6 billion ( $3.39 billion) in 2021, with Canadian direct investment in India standing at CA$2.9 billion ($2.14 billion). In addition, Canadian portfolio and institutional investment into India reached CA$ 70 billion ($51.7 billion).