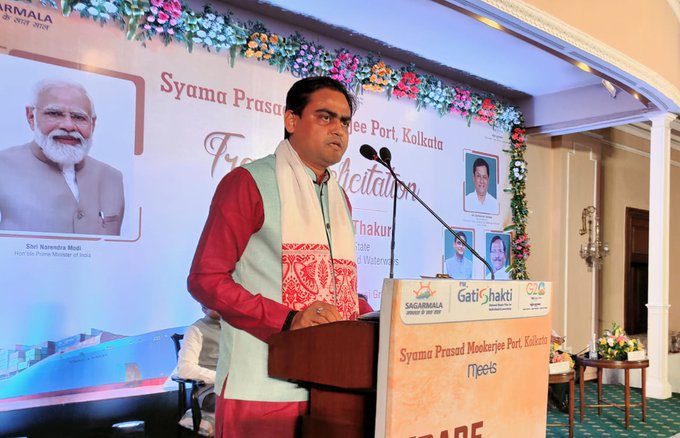 SMP Kolkata to undertake trial run for cargo movement to facility in Myanmar
KOLKATA : The Syama Prasad Mookerjee Port (SMP) Kolkata, will flag off a cargo ship on May 4 to undertake a trial run for a facility at Sittwe in Myanmar, Union Minister Shri Santanu Thakur said here on Tuesday.
The initiative is part of the Kaladan Multimodal Transit Transport project. The objective of the project is to provide alternative connectivity to the North East region from Kolkata Port through Sittwe Port up to Paletwa in Myanmar by waterway and Paletwa to Zorinpui by road in Mizoram.
A cargo of 300 tonnes of cement from Ramco Cements Limited will be exported to Myanmar and it will reach Sittwe Port on May 9, Minister of State for Sports, Shipping and Roadways Santanu Thakur said on the sidelines of a felicitation event of port users.
"This will connect Myanmar through inland waterways and it will open another gateway to North East via Sittwe Port," Thakur said.
Speaking at the event, SMP Chairman H L Harandh said that the port has a cargo handling target of 74-75 million tonnes in the current fiscal.
In FY'23, the port handled 65.66 million tonnes of cargo, registering a growth of 12.87 per cent over the previous financial year.