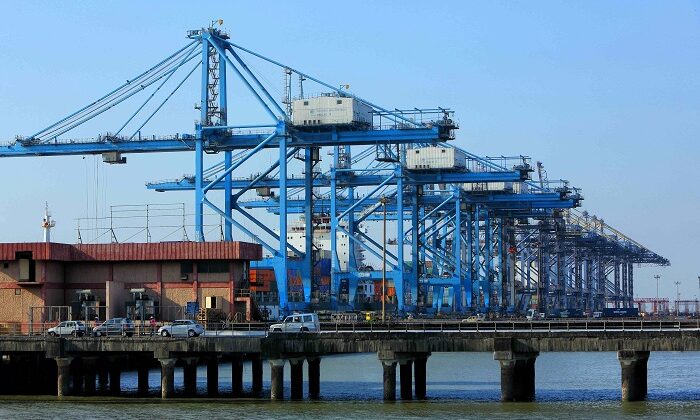 PM expresses happiness as JNPA registers highest throughput by crossing an impressive 6 million TEUs for the first time in history
MUMBAI : The Prime Minister, Shri Narendra Modi has expressed happiness as Jawaharlal Nehru Port Authority (JNPA) registered highest throughput by crossing an impressive 6 million TEUs on March 30 for the first time in history.
In reply to the tweet by JNPA, the Prime Minister tweeted; "Noteworthy feat by one of India's important ports."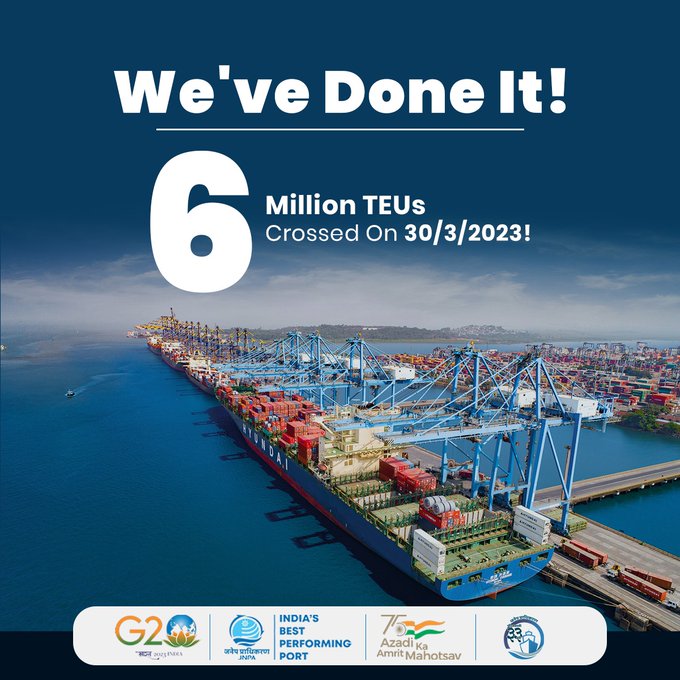 The container volumes handled at JNPA rose 6.45 percent in FY23 from 5.68 million TEUs a year earlier.
The overall cargo (both container and non-container) handled at the port located near Mumbai rose 9.87 percent to 83.49 million tonnes (mt) from 75.99 mt a year ago.
JNPA Chairman Shri Sanjay Sethi attributed the record performance to the collective efforts of port employees including the traffic Department led by Girish Thomas and the other stakeholders.
The record container volumes came despite the port's self-run container terminal undergoing privatisation during the year through the public-private-partnership (PPP) route, leaving the facility in a state of flux.
"We didn't fire on all cylinders during the year," Shri Unmesh Wagh, Deputy Chairman, JNPA, said.
This was the year, Wagh said, when the port authority handed over its self-run container terminal to a private operator. "The performance of this terminal which now has a capacity to handle 1.5 million TEUs was nothing; it handled only a few lakh TEUs in FY23. Besides, Gateway Terminals India Pvt Ltd (GTI), one of the five terminals operating at J N Port, temporarily closed one of its berths towards the year end for an infrastructure upgrade. If not for this, we would have done much better," Wagh stated, noting that the port still managed to post "handsome growth" of 6.45 percent in container volumes.
Among the five facilities operating at J N Port, Bharat Mumbai Container Terminals Pvt Ltd (BMCT), the terminal run by PSA International Pte Ltd, the sovereign wealth fund of Singapore, posted the highest growth of 37.72 percent, handling 1.714 million TEUs in FY 23 from 1.244 million TEUs a year earlier.
Nhava Sheva International Container Terminal Pvt Ltd (NSICT), the facility run by Dubai's D P World, handled 1.096 million TEUs, 15.73 percent more than the 9,47,887 TEUs handled in FY22.
Nhava Sheva (India) Gateway Terminal (NSIGT), also run by D P World, posted a 4.14 percent decline in volumes in FY23 to 1.137 million TEUs from 1.186 million TEUs a year earlier.
Gateway Terminals India Pvt Ltd (GTI), a joint venture between A P M Terminals Management B V, the container port operating unit of Danish shipping and transport giant A P Moller-Maersk A/S and Container Corporation of India Ltd (Concor), posted a 1 percent decline in volumes to 1.846 million TEUs in FY 23 from 1.865 million TEUs a year ago.
Jawaharlal Nehru Port Container Terminal (JNPCT) handled 2,05,907 TEUs till it was run by the port authority and 49,709 TEUs after it was taken over by the J M Baxi Ports & Logistics Ltd and CMA Terminals Holding consortium (total 2,55,616 TEUs in FY 23 from 4,40,210 TEUs in FY22).
The shallow water berth handled 160 TEUs.
Looking ahead, Wagh said that the port will record much higher growth in FY24 by "firing on all cylinders".
Explaining the optimism, he said that the port's self-run container terminal, now operated by an equal joint venture between J M Baxi Ports & Logistics and CMA Terminals Holding, will be able to handle more volumes through modernisation and efficiency improvements.
Moreover, the dedicated berth for handling ships plying exclusively on coastal routes will act as a feeder for export-import (EXIM) cargo. The shallow berth will be able to handle ad hoc ship calls and smaller vessels which the bigger terminals at the port are not ready to handle.
"This will give further impetus to growth. With improved efficiency, vigour, and new PPP arrangements, we will be able to post a higher increase in traffic this year," he said.
The coastal and shallow water berths were recently awarded to J M Baxi Ports & Logistics under the privatisation programme of the government.
The other factors that will aid the growth in volumes, according to Wagh, are the concretisation of roads leading to the port and the construction of a bypass bridge at Karal which is expected to be completed in 2-3 months.
Besides, some of the units in the port's special economic zone (SEZ) such as the free trade and warehousing zone developed by D P World over 80 acres will start full-fledged operations this year, bringing captive cargo to the port.
Wagh said that the French container shipping line CMA CGM S A, the world's third biggest, is exploring the possibility of undertaking container transhipment business from J N Port.
"If CMA CGM does transhipment, it will increase the transhipment volumes at J N Port which is currently less than 1 percent of the total volumes," Wagh said.
J N Port is primarily a gateway port handling export and import containers for Indian shippers. The port authority will also add more refer (refrigerated) plugs if necessary.
"We have enough reefer slots. A few days ago, there was an uneven distribution of reefer containers which created some mismatch. That will be corrected. We will add more reefer slots, if necessary," Wagh said.
"We are poised for a quantum leap in traffic. Of course, this will create challenges in the hinterland. But we are geared up for growth," Wagh added.