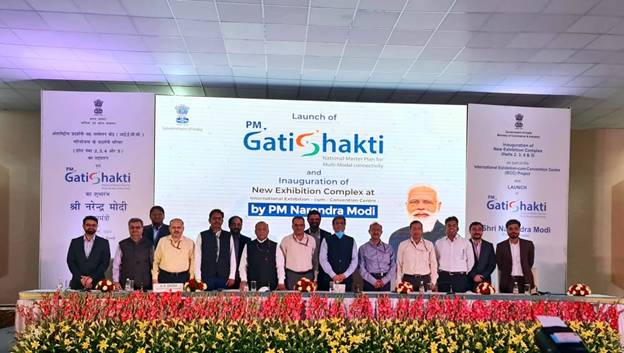 PM Gati Shakti -National Master Plan for Multi Modal connectivity

---
NEW DELHI : The two-day event to mark the launch of ambitious "PM Gati Shakti – National Master Plan (NMP)" for multi-modal connectivity concluded . The event was launched by Prime Minister Shri Narendra Modi recently.
While inaugurating the event , the Prime Minister stressed that the people of India, Indian industry, Indian business, Indian manufacturers, Indian farmers are at the centre of the Gati Shakti campaign. It will give new energy to the present and future generations of India to build the India of the 21st century and will remove the obstacles in their path, he pointed out.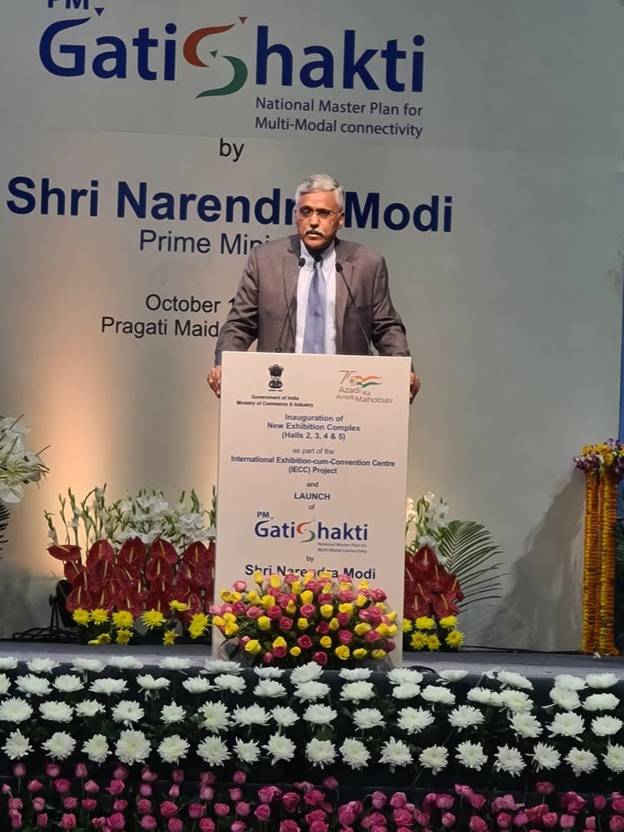 The Prime Minister highlighted the need for holistic and integrated development across departments to create next generation infrastructure by fostering 'will for progress, work for progress, wealth for progress, plan for progress and preference for progress'.
In his concluding remarks , Secretary MoRTH Shri Giridhar Aramane said ease of living should be facilitated by whatever Government is doing. Giving the example of Metro rail, he said unless the Metro station has access to residential colony, the common man will not be able to use it.
Stressing upon the need for unified thinking in planning of each infrastructure project, Shri Aramane said. "While planning / conceptualizing itself, the unity has to come into the thinking of various Ministries and Departments. That's a crucial point which Hon'ble Prime Minister underlined for which he made us available a digital platform, which can provide as an integrative way of conceptualizing and planning various infrastructure projects."
Breakout sessions were held on the theme of "Strengthening the National Master Plan", which saw engagement with more than 50 representatives from the industry, including eminent personalities such as Chairman SBI Shri Dinesh Kumar Khara, MD APM Terminal Pipavav Shri Jakob Friis Sorensen and President NHBF Shri Vinod Kumar Agarwal. The event commenced with a presentation by Additional Secretary (Highways) Shri Amit Kumar Ghosh. The presentation delved deep into 3 sub-themes: "Developing an institutional framework for planning", "KPI Design and monitoring progress" and "Stakeholder engagement and benefits for citizens".
In his presentation, the Shri Ghosh covered learnings from Indian and global examples on the 3 sub-themes and potential frameworks for solutions. This was followed by group discussions on the three themes. Joint Secretary (Logistics) MoRTH Shri Suman Prasad Singh and Joint Secretary & MD NHIDCL Shri Mahmood Ahmed were key discussants during the group discussion. These discussions were moderated by Shri Prakash Gaur, CEO NHLML, Shri R.K. Pandey and Shri Manoj Kumar, both Members of National Highway Authority of India (NHAI). Various suggestions were received on all 3 sub-themes and are being analyzed by the Ministry for implementation.
Speaking at a breakout session on "Stakeholder engagement and benefits for citizens", AS (Highways) MoRTH Shri Amit Kumar Ghosh said structured and well-coordinated engagement process is required to address needs of stakeholders. To avoid missing out key stakeholders on the ground, a careful mapping needs to be conducted for every project going forward," he said
ABOUT NATIONAL MASTER PLAN: The National Master Plan aims at bringing in holistic planning and development across the country. All economic zones and infrastructure developments depicted in a single integrated platform will provide spatial visibility of physical linkages to promote comprehensive and integrated multi-modal national network of transportation and logistics with the aim to enhance ease of living, ease of doing business, minimize disruptions and expedite cost efficient completion of works. NMP will boost economic growth, attracting foreign investments and enhance the country's global competitiveness there by enabling smooth transportation of goods, people and services and creating employment opportunities.
The National Master Plan will also aid concerned Ministries/Departments to prioritize connectivity enhancements for ensuring last mile connectivity to economic zones in a defined time frame. The development of a GIS based ERP system, in collaboration with BISAG-N (Bhaskaracharya National Institute for Space Applications and Geo-informatics), will enable all stakeholders and the Network Planning Group consisting of Infrastructure connectivity Ministries in spatial planning, evidence-based decision-making, administration and effective monitoring of the Master Plan on a periodic and real time basis. With over 200 layers, the Portal will provide visibility of all the critical network linkages and support the Network Planners for decision making for better efficiencies in the logistics sector.
---